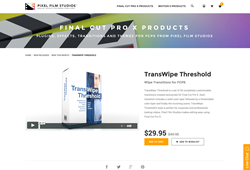 With 30 completely customizable transitions TransWipe Threshold is the perfect transition for corporate and professional looking videos
Aliso Viejo, California (PRWEB) August 17, 2016
"With 30 completely customizable transitions TransWipe Threshold is the perfect transition for corporate and professional-looking videos," said Christina Austin - CEO of Pixel Film Studios.
Every preset included in TransWipe Threshold is totally unique. Layers can rotate from a hinge or simply wipe across the screen. Wipes can animate from all sides and include up to 5 layers. Each preset comes ready-to-go, but users can adjust them however they like inside Final Cut Pro X.
To use a transition, drag and drop any preset directly in the middle of two clips. For best results, make sure there is enough footage left at the end of the first clip and the beginning of the second clip. Users can change the speed of the transition by grabbing its edge and stretching, or shrinking the space of the transition.
TransWipe Threshold's clean design allows for use in any video production, but is ideal for corporate style videos. TransWipe Threshold can strengthen any brand by gracefully moving from one scene to the next in a variety of geometric patterns and shapes.
Using TransWipe Threshold is as easy as drag and drop. Since all presets are ready-to-go in FCPX, users only have to worry about what colors they want to use. Simply change the color of the first layer and the colors of the thresholded layer. Then, adjust the Threshold using two simple sliders that will control which way the transition animates using checkboxes, or drop-down menus.
Established in 2006, Aliso Viejo, California-based Pixel Film Studios is an innovative developer of visual effects tools for the post-production and broadcast community. Their products are integrated with popular non-linear editing and compositing products from Apple FCPX. Apple, the Apple logo, Mac OS X, and Macintosh are registered trademarks of Apple Inc. in the U.S. and/or other countries. All other trademarks and trade names are the property of their respective owners.