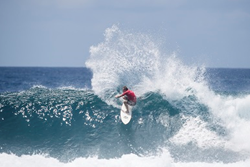 Kuda Huraa, Maldives (PRWEB) August 11, 2016
Competition is underway at the Four Seasons Maldives Surfing Champions Trophy 2016 with Day One seeing competitors return to basics and hitting the water on single fin boards. Taj Burrow (AUS) took out the division in pumping 3 to 4-foot clean right-handers at Sultans.
Burrow, who had only just ridden a single fin for the first time yesterday put on an amazing show all day pulling into barrels and smashing vertical re-entries on the groomed walls of Sultans.
In the final, Burrow came up against former Pipe Master Rob Machado (USA). The two went blow for blow but it was Burrow who came out on top with a heat total of 14.94 (out of a possible 20).
"Surfing in a final on a single fin against Rob Machado is like a dream," Burrow said. "That was just so much fun, the waves are sick and my board felt really good. It's a bit bigger than what I'm used to but you could really push it through turns. I'm just having such a sick time here on Kuda Huraa, we're all being so spoiled."
Machado, who was surfing on a board he shaped himself, was a real standout. Surfing a single fin at a wave like Sultans on your backhand is no easy task, but Machado made light work of it posting high heat scores all day.
"That was so fun out there," Machado said. "The conditions are so dreamy today. It's been so sick to catch up with Shane (Dorian) and the rest of the crew especially here in paradise. It doesn't get any better."
Last year's event Champion Shane Dorian (HAW) came up against childhood friend and single fin master Machado in Semifinal two. Dorian tucked into a number of barrels for a heat total of 15.34 to tie with Machado who won on a count back due to receiving the highest single wave score of the heat.
"Rob and I have been competing against each other since we were kids," Dorian said. "We're good friends so it was super chilled out there. Rob is surfing as good as he ever has so it was sick to share waves with him. It's just such a pleasure to be back at this event."
Semifinal one was an amazing duel between Taj Burrow and WSL Deputy Commissioner and former CT competitor Travis Logie (ZAF). Logie's backhand was on point going vertical on critical sections to earn himself a heat total of 17.06. He was unable to overcome Burrow's division high score of 18.44.
"They were the best waves I've had in a heat in over ten years," Logie said. "Taj was just getting tubes and I was doing a million turns, it was so fun. It's always great when you both get opportunities. The conditions are perfect for a single fin, just so good."
In one of the slower heats of the morning, Hawaii's Jamie O'Brien was unable to find an early score as the ocean went flat. As the heat progressed he began to develop momentum as the waves built. Left needing a 8.40, O'Brien took off on one of the better looking waves of the heat pulling into a long barrel across the inside section; unfortunately it was after the siren and O'Brien bowed out of the day's competition.
"This is such a unique contest," O'Brien said. "When a wave comes through and it's your turn, it's a real treat; this wave is so perfect. It was a real challenge to ride the single find, you have to take off a bunch of talent and just go with the feel of it. It's really cool out there, everyone was super relaxed so it was really cool."
Local Trials Winner Hussain 'Iboo' Areef (MDV) had to ask a friend if he could borrow a single fin as the young Maldivian had never ridden one before. His lack of experience did not show as the goofy footer nailed backhand hit after backhand hit. His heat total of 12.40 was not enough to move into the Semifinals so Areef will now set his sights on the twin fin division.
"Riding a single fin is really different," Areef said. "You have to really slow everything down. It was so cool to see Travis, Jamie and Shane surfing up close; they were all ripping. I surf out at Sultans a lot and it can get really busy so having it with only four people out there was awesome."
Single Fin Division Results:
Round 1 -
Heat 1: Taj Burrow (AUS) 15.67, Rob Machado (USA) 14.67, Bethany Hamilton (HAW) 13.56
Heat 2: Shane Dorian (HAW) 15.93, Travis Logie (ZAF) 14.33, Iboo Areef (MDV) 12.44, Jamie O'Brien (HAW) 7.86
Semifinals -
Heat 1: Taj Burrow (AUS) 18.44, Travis Logie (ZAF) 17.06
Heat 2: Rob Machado (USA) 15.34, Shane Dorian (HAW) 15.34
Final: Taj Burrow (AUS) 14.94, Rob Machado (USA) 14.00
###
About Four Seasons Hotels & Resorts
Founded in 1960, Four Seasons continues to define the future of luxury hospitality with extraordinary imagination, unwavering commitment to the highest standards of quality, and the most genuine and customized service. Currently operating 92 hotels and private residences in major city centers and resort destinations in 38 countries, and with more than 60 projects in development, Four Seasons consistently ranks among the world's best hotels and most prestigious brands in reader polls, traveler reviews and industry awards. For more information and reservations, visit fourseasons.com. For the latest news, visit press.fourseasons.com and follow @FourSeasonsPR on Twitter.