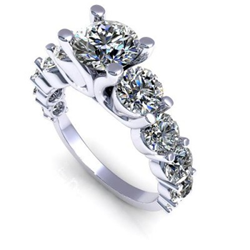 "PrimeStyle was committed to delivering a better customer experience before and during the holiday season." Thomas David
New York, New York (PRWEB) August 16, 2016
New York diamond ring dealers, PrimeStyle, have revamped their website to make it easier for customers to navigate and find great deals on their massive selection of wholesale wedding and engagement rings. PrimeStyle moved their website platform to Magento, a stable and easy to navigate e-commerce software known for its security for users. Along with the platform change, PrimeStyle has also increased its wedding rings inventory as it prepared for the holiday season.
"We've noticed a growth trend in online wholesale jewelry sales in the last 2 years", explained Thomas David, who has been with PrimeStyle since 2001. "People are researching diamond ring prices online and finding the same or better quality at lower prices than their neighborhood jeweler", David remarked. "PrimeStyle was committed to delivering a better customer experience before and during the holiday season."
Diamond prices have been on a rollercoaster ride all year long, with diamonds being near the lowest price in over two years currently, according to IdexOnline's Diamond Index. If there was ever a time to buy, it would be right now. With PrimeStyle's new website and increased selection of wedding ring sets, engagement rings for women, diamond earrings, men's diamond rings and loose diamonds, they are ready to save you hundreds if not thousands on your new purchase. And the sooner you choose which diamond you want, the better chance of getting it at the lowest prices in the last 5 years, as competition for the best diamonds increases the closer we get to the holidays.
About PrimeStyle: Since 2001, PrimeStyle has been delivering exceptional quality jewelry to customers all over the world. PrimeStyle specializes in wholesale diamond engagement rings, wedding rings, loose diamonds, semi-mounts, earrings, pendants and much more. Call them today at (888) 532-9440 or visit their new website.