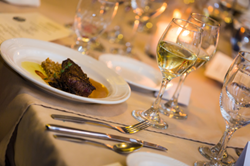 A delicious apple menu and day filled with family fun is the perfect way to kick off the fall season.
Shenandoah National Park, VA (PRWEB) August 15, 2016
Apples are in their peak harvest in the Shenandoah Valley, and guests can celebrate for the entire month of September at Skyland in Shenandoah National Park, located on mile 41.7 on Skyline Drive.
Skyland will have apple themed specials in the Pollock dining room and Executive Chef Jeff Wasnesky has created some delectable selections. Breakfast features Cinnamon Apple Studded Pancakes with Cinnamon Apples, Apple Butter Whipped Cream and a Caramel Drizzle. For lunch try the Apple Harvest Burger with Granny Smith Apple Slaw, Apple Butter Spread, Pretzel Bun and Cheddar Cheese. Dinner you can enjoy an Apple Cider Brined Stuffed Pork Chop with Apple Sage Stuffing, Apple Cranberry Chutney, and Apple Butter Caramel Demi Glace. Housemade Apple Pie a la Mode is a featured dessert.
On Friday, September 9th, Skyland will host the next in a series from the Shenandoah Seasonings Hard Cider dinners featuring local Old Hill Hard Cider from neighboring Showalter's Orchard. Menu items include an Apple Brie Walnut Board, Roasted Breast of Duck with Apple Butter and Sweet Potato Cake, and Stuffed Gala Apple Flambè. All menu items will be paired with crisp, refreshing Old Hill Hard Ciders. An overnight package includes Friday night lodging, dinner for two, etched Shenandoah cider glasses, and breakfast for two.
Saturday, September 17 will be the official day to celebrate all things Apple Butter with the Annual Apple Butter Celebration. For an interactive experience, the Skyland staff will set up copper kettles while visitors can watch the process, give the kettle a stir, take a delectable bite, and even take home some freshly made jars of apple butter. The event will feature local craft vendors, pony rides, children's crafts and face painting, live entertainment and lots of fun to be had by all. The entertainment roster includes the Shenandoah Valley Cloggers and Mountain Heritage Cloggers as well as musical entertainment by Nikki Dovel, Somewhere Tonight, and Ace $trings Band.
Chef Jeff has created a mouthwatering menu for the event including Pulled Pork with an Apple Cider BBQ Sauce, Grilled Chicken Sandwich with Bacon Apple BBQ Sauce, Granny Apple Cole Slaw, Scalloped Apples, Apple Cobbler, Apple Strudel, and Gala Apple Wedges with a Warm Caramel Sauce. Food items can be complimented with Hot & Cold Spiced Apple Cider, or try an array of Virginia Wine. "We are really excited for the return of the locals favorite Apple Butter Celebration," says Wasnesky. "A delicious apple menu and day filled with family fun is the perfect way to kick off the fall season."
While enjoying the scenic drive to Shenandoah, there are several stops along three Apple Trails that include beautiful farms with the choice of pick-your-own apples or already harvested fruit. The September harvest will boast a mix of varietals and include popular Ginger Gold, Gala or Honeycrisp that these orchards grow.
A special Apple B&B lodging package is available at Skyland during September. Book online at http://www.goshenandoah.com/specials/getaways or call 877-247-9261 and use promo code APPLETIME when booking. Additional lodging promotions, events and activities for planning your Shenandoah getaway are also available.
About Shenandoah National Park
Established by Congress in 1935, Shenandoah National Park in the Blue Ridge Mountains of Virginia contains nearly 197,000 acres of land with over 500 miles of trails, including 101 miles of the Appalachian Trail. Shenandoah draws up to 1.2 million visitors a year with its rich history, unique geography and wildlife, as well as the panoramic vistas from the Skyline Drive. This National Scenic Byway, built during the Depression era, winds along the crest of the mountains through the length of the park, providing vistas of the sweeping landscape to the east and west. Lodging options in the park include Skyland (mile 41.7), Big Meadows Lodge (mile 51), and Lewis Mountain Cabins (mile 57.5), which are operated by Delaware North, an authorized concessioner and hospitality provider for the National Park Service. For more information about Shenandoah accommodations, dining and special events, call 877.247.9261 or visit http://www.goshenandoah.com.
About Delaware North
Delaware North is one of the largest privately held hospitality and food service companies in the world. Founded in 1915 and owned by the Jacobs family for 100 years, Delaware North has global operations at high-profile places such as sports and entertainment venues, national and state parks, destination resorts and restaurants, airports, and regional casinos. Our 60,000 employee associates are dedicated to creating special experiences one guest at a time in serving more than a half-billion guests annually. Delaware North operates in the sports, travel hospitality, restaurant and catering, parks, resorts, gaming, and specialty retail industries and has annual revenue of about $3 billion. "Delaware North" is a reference to Delaware North Companies Inc. and its affiliates and subsidiaries, including location-specific operating entities. Learn more about Delaware North, a global leader in hospitality and food service, at http://www.DelawareNorth.com.
About Delaware North's parks and resorts business
Delaware North is a global leader in the hospitality industry, operating lodging, recreational activities, food and beverage services, retail and educational programming at destinations throughout North America, Australia and Asia. Delaware North operates in many of the country's iconic national and state parks, including Kalaloch Lodge in Olympic National Park and Niagara Falls State Park, as well as at cultural attractions such as Kennedy Space Center Visitors Complex. Its portfolio also includes five luxury resorts in Australia. To learn more about Delaware North's hospitality management expertise, visit http://www.delawarenorth.com/industries/parks.