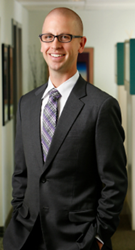 Denver, CO (PRWEB) August 11, 2016
Dr. Kyle Griffith's practice, 58 Dental, is now formally certified as a provider of "Low Dose" x-rays which emit only very low amounts of radiation. As a dentist in Denver, CO, committed to providing minimally-invasive dentistry, Dr. Griffith appreciates the importance of protecting patients from unnecessary complications or damage to healthy tissue during dental treatment. This new certification helps ensure that patients face only minimal exposure to radiation while receiving dental X-rays.
58 Dental met several criteria to earn certification as a "Low Dose" facility. Atomic Medical Physicists inspected radiation emissions during x-ray examinations at 58 Dental and verified that they fell below a set industry threshold. During the certification process, Dr. Griffith also received the latest information concerning industry guidelines for ordering x-ray examinations, while his staff completed an educational review session on radiation safety issues. Collectively, this education and certification helps 58 Dental ensure that patients receive minimal radiation, in addition to a higher quality of care, to improve their oral, as well as, overall health.
Earning a "Low Dose" certification is just the latest step taken by Dr. Griffith to provide patients with minimally-invasive dentistry options. Dr. Griffith emphasizes preventative care as a dentist in Denver, CO, and is committed to helping patients avoid unnecessary oral health issues whenever possible. Dr. Griffith offers counseling on nutrition and oral hygiene, professional cleanings, and minimally invasive treatments, including the application of sealants to prevent caries and remineralization therapy to treat cavities. These measures help patients protect their natural teeth while avoiding unnecessary medical intervention.
People who are interested in learning more about minimally-invasive dentistry treatments offered by Dr. Griffith are welcome to visit the website of 58 Dental at http://www.58dental.com. Patients who are ready to schedule consultations with a leading dentist in Denver, CO, regarding any of these procedures, may directly contact Dr. Griffith's office at (303) 758-5252.
About the Doctor
Dr. Kyle Griffith is a trusted general dentist offering personalized dental care to patients in Denver, CO at his practice, 58 Dental. Dr. Griffith graduated in the top ten percent of his class from Tufts University School of Dental Medicine in Boston, before graduating as the top U.S. resident within the Advanced Education in General Dentistry residency program at Fort Hood, TX. He has received the Army Achievement Medal and the Army Commendation Medal during Active Duty with the United States Army and served for 6 years, leaving at the rank of Major. Dr. Griffith sees the importance of providing patients with truly comprehensive care using the latest advancements in dentistry and technology. It was these innovations which inspired him to open 58 Dental, in order to begin changing the face of dentistry by keeping patients healthy for a lifetime. To learn more about Dr. Griffith or the services he offers, visit his website at http://www.58dental.com, or call (303) 758-5252 to schedule an appointment.