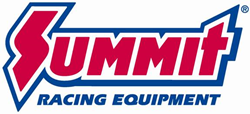 Tallmadge, OH (PRWEB) August 19, 2016
Summit Racing now offers PowerNation TV Xtreme Off Road WD40 Specialist Jeep Parts Combos. Xtreme Off Road team transformed a 1990 Wrangler YJ into an all-out trail rig complete with a tube chassis, 42 inch tires, and 400+ horsepower Chevy LS., and Summit Racing created WD40 Specialist Jeep Combos to allow fans of the build to see exactly what went into the Jeep.
Axle, Wheels, and Tires Combo
The WD40 Specialist Jeep YJ received significant driveline upgrades. It was fitted with a set of boneyard-fresh Ford Super Duty axles with 4.56 ring and pinion gears from Yukon Gear. The axles also got Yukon Gear Zip Lockers—air-actuated, full locking differentials that can be activated from inside the cabin. Those axles spin a set of Trail Gear Creeper Locks wheels shod with 42 inch Pitbull Rocker XOR tires.
Engine and Transmission Combo
The Jeep's LS V8 was upgraded with Holley EFI—LS Mid-Rise intake manifold and plenum, fuel injectors and throttle body, all controlled by a Holley HP EFI controller. The LS also got a COMP Cams XFI RPM camshaft that delivers a significant improvement in usable torque. The LS engine is mated to a TH-400 transmission loaded with performance upgrades from TCI—a Maximizer torque converter, flexplate, a full manual reverse pattern valve body, and an Outlaw shifter.
Completer Combo
The WD40 Specialist Jeep YJ got an Oracle sealed beam headlight conversion, plus a 42 inch Oracle light bar that lets the driver wheel well into the night. The Xtreme Off Road team built a custom intake system using Airaid's U-Build-It intake tubing. A brand new Painless wiring Harness eliminates any electrical gremlins. Other goodies include Gibson headers and stainless muffler, a Summit Racing fuel cell, and a pair of Holley fuel filters.
The WD40 Specialist Jeep build stretched over several episodes of PowerNation TV's Xtreme Off Road. Watch the build begin with Episode 1.
Summit Racing Equipment
http://www.summitracing.com
1-800-230-3030