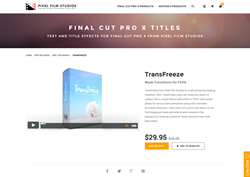 TransFreeze allows editors to reveal any object or subject with a unique freeze mask effect that will create a dynamic freeze transition
Aliso Viejo, California (PRWEB) August 18, 2016
"TransFreeze allows editors to reveal any object or subject with a unique freeze mask effect that will create a dynamic freeze transition," said Christina Austin - CEO of Pixel Film Studios.
TransFreeze provides Final Cut Pro X users the means to create a unique freeze frame transition from one clip to the next. To use this transition, choose a video clip and hold the position of the frame you want to freeze with the hotkey "Shift + H". Next, drag a TransFreeze preset into the FCPX timeline and align it to the frozen frame. Lastly, use the built-in masking tool to cut-out a section in the video footage and compound.
TransFreeze includes a custom masking tool that allows FCPX users to mask out any subject with a few simple clicks. Start by enabling "Edit Mode" and then click around the subject to create a custom mask. To add more points on the mask, simply double-click along the bezier. To delete a point, hold down the "option" key and double-click. To adjust the curvature of a tangent, double-click on the point connecting two vectors.
TransFreeze features intuitive customization options that are located in the top-right inspector window. With easy sliders, editors can control the slant of the mask animations along. Additionally, users can alter direction of each mask's animations individually with checkboxes. Creating a dynamic freeze frame transition in Final Cut Pro X has never been easier.
Established in 2006, Aliso Viejo, California-based Pixel Film Studios is an innovative developer of visual effects tools for the post-production and broadcast community. Their products are integrated with popular non-linear editing and compositing products from Apple FCPX. Apple, the Apple logo, Mac OS X, and Macintosh are registered trademarks of Apple Inc. in the U.S. and/or other countries. All other trademarks and trade names are the property of their respective owners.