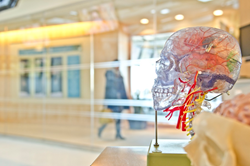 There are many bright young minds that turn away from medical school and that needs to change immediately.
(PRWEB) August 13, 2016
Most people are unaware that the decision people make to attend medical school often comes down to financing. Brilliant or gifted, some students are often deterred by the price tag that comes with becoming a doctor. In a country that needs well-trained and brilliant doctors continually entering the field, there isn't much help in way of students receiving financial aid for taking to the medical field. In fact, many experts claim that the situation for young students wanting to become a doctor has only gotten worse over the last decade. "With increasing interest rates and lower pay in a highly competitive field, it's little wonder why students choose to forgo the process altogether," added spokesman of MedicalSchoolsinUSA.com, Ben Davidson.
As of 2015, roughly 80% of students are in debt and almost all the students in debt owe over $100,000, half that number owes more than $200,000 according to the Association of American Medical Colleges (AAMC). Davidson and his team felt the need to help students any way they can, devising this new release for students to use at their leisure to gain helpful information on government programs, scholarships, and various ways to save money in school.
The staff at MedicalSchoolsinUSA.com has been dedicated to providing medical students with the information they need to succeed since they were first founded. Their goal is to help medical students with information, such as helpful tips about the MCATs, medical school applications, and most recently a comprehensive collection for reducing and eliminating debt effectively.
Davidson also commented, "I thinks it's a shame that so many students are deterred from a career that this country needs so desperately just because they can't afford it. There are many bright young minds that turn away from medical school and that needs to change immediately. In the meantime, my team and I have compiled a new set of articles to help students manage, reduce, and eventually pay off their student debt."
The team at MedicalSchoolsinUSA.com urges young students who are interested in the field to read their articles before making a decision. Their release covers everything from financial aid to managing debt after graduation and everything in between.
Students that are weary about attending medical school, for this reason, are encouraged to browse the entire collection of debt management and reduction articles, here.
For more information on medical school guides, tips, and suggestions, people can visit their main site as well for more free information.