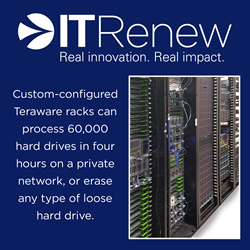 "Innovation is the cornerstone of everything we do; it's part of our DNA," said Aidin Aghamiri, vice president of corporate strategy at ITRenew.
Newark, California (PRWEB) August 16, 2016
ITRenew, Inc., an industry leader in IT asset disposition (ITAD) services and data sanitization software, today announced the opening of its Innovation Center in Sioux City, Iowa. An R&D facility and data security think tank, the center's core charter is to intimately understand – and stay ahead of – the various technologies that storage manufacturers develop and customers deploy in order to ensure compatibility with Teraware, ITRenew's proprietary data sanitization and asset management platform.
"Innovation is the cornerstone of everything we do; it's part of our DNA," said Aidin Aghamiri, vice president of corporate strategy at ITRenew. "ITRenew was the first ITAD service provider to develop an enterprise-grade platform that solved data erasure challenges in the most hyperscaled IT environments, so being the first to have a team and facility 100 percent dedicated to its continued success only seems fitting."
According to Matt Mickelson, director of product management at ITRenew and Innovation Center commander, incompatibility is the primary cause of erasure failure. Therefore, he and his team work closely with storage manufacturers from the earliest stages to ensure Teraware can handle anything they build, now and into the future.
"Our process starts before anyone else in the industry is even thinking about data security – during manufacture," said Mickelson. "We have a truly collaborative relationship with OEMs, where they seek out our advice so storage devices are designed with sanitization in mind, and we in turn are continually refining our software to be compatible with not only current technology, but the very bleeding edge – sometimes years before it ever hits the open market."
A commitment to innovation and collaboration has propelled Teraware to many firsts, among them: being the first to support multiple-vendor solid-state drive (SSD) sanitization for SAS, SATA, FC, PCI-E and NVMe storage devices; and, through an ADISA Claims Test conducted in October 2014, being the first (and still only) software to have been certified to erase SSDs at a forensic level.
But, according to Mickelson, Teraware development isn't their only charter. The Center is actively involved in:

Custom-configuring hardware/software data sanitization solutions to optimize performance for each particular environment based on the type and volume of assets.
Custom software development for asset management functionality and integration with customer systems.
Real-time job monitoring to troubleshoot onsite erasure issues before drives are destroyed.
Developing diagnostics tools and stress-testing techniques to assess remaining service life of assets and optimize reusable yield.
Re-engineering Open Compute Project(OCP) systems as they come out of service for broader utilization and optimal value recovery.
The Innovation team is also working on the next-generation release of Teraware, which is scheduled for later this year. The new version will include a major architectural redesign to support cloud-based distribution. ITRenew will demonstrate a beta version in Booth #107 at the Gartner IT Financial, Procurement & Asset Management Summit, Sept. 19-21 in Grapevine Texas.
"ITRenew is very different from others in our industry in that we are both an ITAD service provider and a software developer," said Aghamiri. "Most others simply relicense third-party tools from developers who aren't in the field servicing customer assets of every type, on an everyday basis, and the tools themselves are limiting. By integrating our software into the service, we create limitless flexibility and scale for our customers, and can also extend the software functionality beyond erasure to plug gaps in traditional ITAD processes. That's a direct byproduct of innovation."
About ITRenew's Teraware
Teraware, a market-disrupting data security solution, was developed by ITRenew in 2007 to solve a need for fully scalable, high-performing data sanitization in the most hyperscaled data centers. Through an ADISA Claims Test, Teraware remains the only solution to have passed Risk Levels 1, 2, 3 and 4 (High) and Test Levels 1 and 2 for the forensic-level sanitization of SSDs. Teraware has been adopted by the world's largest cloud companies as the default data erasure solution due to its cutting-edge architecture and a feature set never before available to enterprises. Recognized by Gartner as a competitive differentiator, Teraware guarantees 100% sector-verified erasure, has an industry-best 95+% success rate and is used to sanitize more than four million drives a year.
About ITRenew
Headquartered in Silicon Valley, ITRenew has pioneered a revolutionary software-driven approach that streamlines traditional ITAD processes while delivering superior financial returns, security and sustainability. ITRenew is 100% dedicated to ITAD services and specializes in complete lifecycle management for enterprise IT, mobile and data center equipment, processing millions of IT assets through a global network of company-owned facilities. To learn more, visit http://www.ITRenew.com.