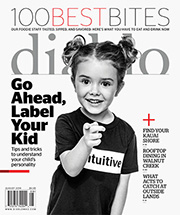 And here we are, right on the cover!
Martinez CA (PRWEB) August 16, 2016
As the title suggests, the Diablo article and Parenting by Temperament are giving parents full permission to find and apply a very broad, temperament type or label to their child. However, each temperament pair is really more complex than you might imagine. For example, with the pair "Extraversion/Introversion," the possibilities range from very strong, strong, slight, very slight Extravert through to very slight, slight, strong, very strong Introvert—all depending on parent Sorter answers. That, in turn, combines with the other three pairs--Sensing/Intuition, Thinking/Feeling and Perceiving/Judging--to form a full temperament picture. The temperament concepts are based on those developed in the Myers-Briggs Temperament Indicator, which is familiar to many from its use in the workplace.
For the child, questions are based on behavior that is easy to observe and appropriate for the child's general age. The questionnaires are called "Sorters" because the process is not deciding anything for the parent, but rather helping them to simply sort out all well-known behaviors, seen over the years, into useful and meaningful categories. Nature gives every one a bump into a lifelong temperament style, virtually at birth.
Parenting by Temperament is a whole system of on-line Personality/Temperament Questionnaires (Sorters), plus print and Kindle Books on temperament parenting found on Amazon. There are three Sorter/questionnaire levels—Early Child ages 4-8 years, Middle Child, ages 9-12 years, and Adult Sorters for the parents. All child sorters are taken by the parent for the child, and are found at parentingbytemperament.com Each are available by credit card or paypal for just $15.00.
The Parenting by temperament Sorters help the parent to see the big picture with each child in the family as well as the child to child and child to parent similarities and differences. This knowledge should work to reduce parent/child conflict, and help each child in many different personal ways. If studying or socializing in school was an issue last year, this might be just the time to look to temperament for new answers.
Please enjoy this wonderful and comprehensive write-up at diablomag.com/parentingbytemperament, and be sure to visit Parenting by Temperament at http://www.parentingbytemperament.com