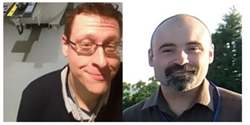 Yorba Linda, CA (PRWEB) August 11, 2016
Preclinical micro-computed tomography (microCT) imaging systems, which provide higher-quality spatial resolution than many other imaging modalities, are optimal for a vast range of applications that demand imaging of small anatomical structures, such as vessels and bones. Our overall understanding of disease has increased, thanks in part to recent research that incorporates microCT data with optical and nuclear data to generate multimodality datasets. The Quantum GX microCT imaging system from PerkinElmer offers high-resolution scanning, high-throughput scan times, and accommodates imaging protocols with radiation doses low enough to facilitate longitudinal studies. MicroCT imaging is enabling many emerging applications and its features inform on functional and anatomical information.
PerkinElmer is sponsoring a new, free educational webinar, "Emerging Applications in Preclinical MicroCT Imaging," in which speaker Gaël Rochefort, PhD, Professor, Dental School, Paris Descartes University, will discuss his group's efforts in expanding the use of microCT imaging beyond typical preclinical models, discussing applications of stem cells in an angiogenesis model and genetic models. Increased investigations in many soft-tissue organs are now possible with the use of vascular contrast agents. Speaker Chris Damoci, senior staff officer and imaging scientist at the Herbert Irving Comprehensive Cancer Center, Columbia University Medical Center, has focused his research on the field of oncology, and will discuss recent findings in pancreatic and other cancers. A question-and-answer session will follow the presentations.
Professor Rochefort joined the EA2496 "oro-facial pathologies, imaging and biotherapies" in 2013. He is now responsible for managing research aspects in regard to tooth regeneration and the supporting tissues, including periodontium, and more generally, craniofacial bone. Professor Rochefort also plays a key role in developing innovative micro-CT methodologies and driving the Center's imaging strategy.
Chris Damoci began working at the Garden State Cancer Center and the Center for Molecular Medicine and Immunology after receiving his bachelor's degree. He moved to ImClone Systems and then Eli Lilly and Company, focusing on preclinical experimental therapeutics in their monoclonal antibody platforms. Chris worked on teams that brought breakthrough drugs to market, including Erbitux (Cetuximab) and Cyramza (Ramucirumab). Today, he mentors research scientists, teaching the benefits of noninvasive imaging modalities such as MRI, CT, ultrasound, and optical for the scientists' ongoing longitudinal imaging studies.
The free webinar, hosted by LabRoots, will be presented on August 24, 2016, at 8 am PST/11 am EST.
For full details about the event and free registration, click here.
About PerkinElmer:
PerkinElmer Inc is a global leader in the life sciences focused on improving the health and safety of people and the environment. The company helps scientists, clinicians, and lab professionals accelerate their science through its innovative detection, imaging, services, and informatics solutions. PerkinElmer's knowledge base and expertise supports the discovery of critical insights in diagnostics, life sciences, and environmental applications, and helps connect human and environmental health.
About LabRoots:
LabRoots is the leading scientific social networking website and producer of educational virtual events and webinars. Contributing to the advancement of science through content sharing capabilities, LabRoots is a powerful advocate in amplifying global networks and communities. Founded in 2008, LabRoots emphasizes digital innovation in scientific collaboration and learning, and is a primary source for current scientific news, webinars, virtual conferences, and more. LabRoots has grown into the world's largest series of virtual events within the Life Sciences and Clinical Diagnostics community.