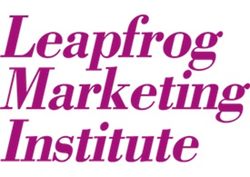 This shift in our panel and research agenda reflects the need of the marketer and technology executive to better communicate and align toward business goals
Evanston, Illinois (PRWEB) August 12, 2016
The Leapfrog Marketing Institute, the research arm of Leapfrog Online, today announced that it has added three CIOs – Deborah (Deb) Hall-Lefevre of McDonald's, Randall (Randy) Spratt of McKesson (retired) and Pete Corrigan of Allstate – to its influential Advisory Panel.
The new Advisory Panel members will serve as the Institute's experts to advance the study of digital marketing and examine the evolving role of the CMO and CIO to drive digital transformation. Advisory Panel members share their expertise by penning original research and white papers that address the always-on consumer, digital commerce and the digital enterprise transformation around the customer experience.
Previously, the Institute's Advisory Panel was only comprised of senior-level marketers and professors. The Institute broadened its focus earlier this year to include IT professionals, given the need for alignment between CMOs and CIOs in a digital world.
"I am honored to have these esteemed technology executives on the Advisory Panel," said Jason Wadler, executive vice president of Leapfrog and chair of the Leapfrog Marketing Institute. "This shift in our panel and research agenda reflects the need of the marketer and technology executive to better communicate and align toward business goals—a gap uncovered in our CMO Digital Benchmark Study last year."
Hall-Lefevre, Spratt and Corrigan each have a unique perspective on strategy, technology and data analytics which will bolster the Institute's knowledge base.
Hall-Lefevre serves as vice president of global enterprise solutions at McDonald's, where she leads the fast food giant's business technology portfolio and drives global improvement through business intelligence, financial systems and HR systems. Prior to this role, she served as the CIO of the US business and was responsible for all aspects of technology across 14,000 restaurants including the launch of ApplePay and the brand's first mobile app.
Spratt is the former executive vice president, chief information officer and chief technology officer of McKesson. He spent 29 years at McKesson before retiring in 2015. As CTO, he guided the overall technology direction for the company's healthcare technology products, and provided support and guidance for application development processes companywide. As CIO, he was responsible for all technology initiatives within the corporation.
Corrigan, senior vice president of Allstate Insurance Company, serves as the group chief information officer responsible for driving technology across all of Allstate's personal lines of business. In this role, he provides strategic oversight and direction for technology initiatives that impact Allstate customers, claimants, agency owners, financial specialists and product offerings.
"The importance of the relationship between marketing and technology is critical, and it all starts at the ideation phase with the leadership team," Corrigan said. "I am impressed with the number of companies that are actively engaged with the Leapfrog Marketing Institute. Being able to speak with senior leaders from other companies and share perspectives on building a stronger partnership between the CMO and CIO is invaluable."
To date, the Advisory Panel consists of 13 industry influencers and professors. Some of the members include: Tyrrell Schmidt, vice president, brand and customer experience, TD Bank Group; Tony Wells, senior vice president, marketing for Schneider Electric's North American market; Bob Wasserman, senior vice president, marketing for Allstate; and David Reibstein, professor of marketing at University of Pennsylvania's Wharton School of Business.
About the Leapfrog Marketing Institute
Leapfrog Marketing Institute nurtures thought leadership and commentary about marketing in a digital world, with a specific focus on consumer-focused experiences and omni-channel conversion. Along with an Advisory Panel comprised of senior marketing and technology practitioners, and professors from premier universities, the Leapfrog Marketing Institute publishes white papers, develops research reports, and hosts events for CMOs and industry influencers. Its research has been featured in AdAge, eMarketer, The Economist, and CIO Magazine. The Leapfrog Marketing Institute is powered by Leapfrog, one of the largest digital marketing agencies in the United States.
About Leapfrog
Leapfrog is a Performance Marketing Agency that has helped leading brands grow digital market share, acquire new customers, and deliver profitable sales for over 20 years. Our easy-to-integrate LFX Conversion Platform connects the consumer journey unlocking marketing intelligence that fuels omni-channel media buying strategies and the targeting of real-time, relevant consumer experiences that compel consumers to convert to customers. Leapfrog analyzes performance and consumer behavior to plan and predict with the purpose of driving continuous optimization.