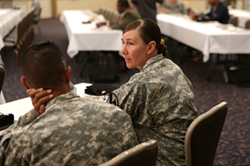 "The seminar training was phenomenal. I was very impressed with the professionalism, content and method of instruction delivery (as well as the takeaways)." -LTC Richard F.
Fort Drum, NY (PRWEB) August 13, 2016
Service members and military spouses from every branch will gather on Tuesday August 23, 2016 at The Commons, Euphrates River Valley Road, Bldg. P-4350 to participate in the Military Transition Seminar (MTS). This day-long course, created-and-delivered by Afterburner Inc.'s team of veterans at installations around the world, will be held from 0800-1700 ET. Registration will open at 0700 ET.
The MTS supports the current mandated transition preparation training known as SFL-TAP, providing a hands-on workshop that shares the Lessons Learned and best practices of veterans who have made the successful transition to the civilian workforce. These veterans are employees of the VOSB (Veteran Owned Small Business) Afterburner, Inc., a corporate leadership development and management training company.
As part of the seminar, participating service members benefit from applying the same planning processes Afterburner deploys at top corporations. Afterburner's proprietary planning model provides a simple, structured process for developing an individual career plan, complete with personal value propositions, career objectives based on military experience and insight into industries where military core competencies are in high demand.
The MTS curriculum is based on Down Range: A Transitioning Veteran's Career Guide to Life's Next Phase http://www.afterburnerstore.com/NEW-RELEASE-Down-Range-Paperback-_p_47.html (2013), a transition guidebook co-authored by Afterburner Founder & CEO, James "Murph" Murphy, and Director of Learning & Development, Retired Navy Cmdr. William M. Duke. As part of the seminar, each participant will receive a copy of the guide.
Leveraging 20 years of corporate training and consulting and the collective transition experiences of Murphy, Duke and Afterburner's team of over 60 veterans, Down Range introduces a unique transition perspective and provides a holistic approach for planning and achieving post-transition career success. Focusing on a values-centric desired future state, then working backwards to the initial post-transition Course Of Action, ensures the service member remains strategically aligned to their goals.
Since December 2013, the MTS has been delivered 28 times across 20 installations, equipping over 2300 veterans and their spouses with the insights and techniques to create more than 2100 transition and career development plans.
_____________________
About USAA
The USAA family of companies provides insurance, banking, investments, retirement products and advice to 11.4 million current and former members of the U.S. military and their families. Known for its legendary commitment to its members, USAA is consistently recognized for outstanding service, employee well-being and financial strength. USAA membership is open to all who are serving our nation in the U.S. military or have received a discharge type of Honorable – and their eligible family members. Founded in 1922, USAA is headquartered in San Antonio. For more information about USAA, follow us on Facebook or Twitter (@USAA), or visit usaa.com.
About Afterburner, Inc.
Afterburner Inc. trains global organizations in the simple, scalable improvement processes of Flawless Execution. Founded in 1996 by former U.S. Air Force fighter pilot James "Murph" Murphy, Afterburner is a Forbes' Best Small Companies in America and a four-time nominee to the Inc. 500/5000. Murph and his team of elite military professionals are regularly featured in leading publications like The Wall Street Journal, Forbes, Businessweek, Financial Times, Newsweek, Slate and Sports Illustrated, and appear on top networks like CNN, ABC, CNBC, Fox News, HLN and Bloomberg News. To learn more about Afterburner's innovative approach to building elite teams and Flawless Execution, visit http://www.Afterburner.com or call (888) 982-6764 and follow us on Twitter (@AfterburnerInc).
Please direct questions to:
Cat Stirn, Chief Operating Officer
cstirn(at)afterburner(dot)com
404-835-3513