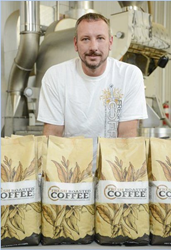 Selinsgrove, Pennsylvania (PRWEB) August 13, 2016
For the second year in a row, Fresh Roasted Coffee LLC. has found itself in the company of the 500 fastest growing private businesses in the country. This year's ranking of 374 out of 500 proves to be even more impressive as the coffee manufacturing company beat their 2015 rank of 385 out of 500. Fresh Roasted Coffee has now joined an even more elite group with the likes of Zappos, Under Armour, Yeti and many more.
Inc. Magazine compiles a yearly list of the entrepreneurial superstars who have grown their businesses at an exponential rate. Inc. assesses total revenue and total growth rate to determine the prestigious ranking. Fresh Roasted Coffee LLC. attributes a good deal of its success to the 2015 organic facility certification by the USDA, a new website platform, attentive customer service and countless improvements to products and packaging alike. Find us online at http://www.freshroastedcoffee.com.
The Fresh Roasted team is looking forward to a successful finish to 2016 and will set its sights on the elusive Inc. 500 three-peat. It's all about the grind.