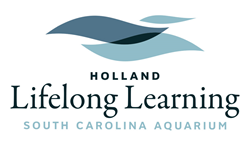 Charleston, S.C. (PRWEB) August 15, 2016
A progressive series of conservation-minded events, led by the South Carolina Aquarium, kicks off September 21, 2016. Through the Holland Lifelong Learning Program, the Aquarium offers educational opportunities aimed at engaging adult audiences with natural science topics and conservation themes in a relaxed, social environment. The Holland Program was funded by Mary and Mason Holland through a generous contribution to the Aquarium's Watershed Campaign. The first season of the Holland Lifelong Learning Program featured local leading experts as well as world renowned conservation luminaries, such as Sylvia Earle. There will be six programs offered this season, reflecting the Aquarium's vision of connecting people with water, wildlife and wild places.
"Our Holland Lifelong Learning Program is designed to stimulate all the senses," said Kevin Mills, South Carolina Aquarium President and CEO. "As we learned in year one, there is a tremendous public appetite for intellectual discourse about the environment, paired with good beers, fine food and inspiring settings."
The six lectures focus on diverse areas of conservation facilitated by leading experts, and take place in unique settings aimed to inspire and educate those who attend. The finale program will be a plastic pollution symposium in March 2017, featuring international policymakers and thought leaders, convening to address solutions to this pressing concern.
Series Topics Include:
Groundbreaking News: Journey to Recovery
Wednesday, September 21, 2016, South Carolina Aquarium
Celebrate the groundbreaking of Sea Turtle Recovery™, a new living exhibit and interactive learning landscape set on the first floor of the Aquarium's main exhibit galleries. Follow the story of sea turtles from rescue, to rehabilitation, to release as told from the perspectives of the people involved.
A Need to Sea Change: Charleston's Resilience
Wednesday, October 19, 2016, Holy City Brewing
As we recognize the one-year anniversary of South Carolina's historical flooding, deepen your understanding of the cause and effects of sea level rise surrounding Charleston and the future resilience initiatives to help sustain our coastal landscape.
Knot the Typical Connection: Horseshoe Crabs and Shorebirds
Wednesday, November 16, 2016, Department of Natural Resources Outdoor Classroom
There is an interesting link between a living fossil, the horseshoe crab, and the life cycle of red knots. Learn of the importance of horseshoe crabs on South Carolina's beaches for sustaining red knot populations.
Branch Out: Shark and Ray Evolution
Wednesday, January 18, 2017, College of Charleston Harbor Walk
Hear how one shark expert uses medical technology to map the ancestry and adaptations of sharks and rays.
Blue Mind: Water for Your Wellbeing
Wednesday, February 15, 2017, Davies Auditorium at Ashley Hall
Discover the connection between water and human health as told by a leader in the emerging field of neuroconservation. Take part in the Blue Marbles Project, aimed to celebrate the beauty and fragility of our planet.
Plastic Planet: Turning the Tides on the Plastic Pollution Crisis
Thursday, March 30, 2017, Francis Marion Hotel
Join us for the Holland Lifelong Learning finale. This panel discussion will feature internationally renowned experts on the threat of plastic pollution, presenting diverse and innovative perspectives on how to address this growing threat to our planet's health.
Holland Lifelong Learning events are ticketed with a nominal fee and are open to the public. Space is limited so reservations are required. Click here to reserve your tickets or call (843) 577-FISH (3474).
Fast Facts:

Second season of Holland Lifelong Learning Program offered by the South Carolina Aquarium
Made possible through a generous contribution from Mary and Mason Holland to the Aquarium's Watershed Campaign
Six educational and inspiring programs
Programs focus on diverse areas of conservation
For more information, visit http://scaquarium.org/lifelonglearning/ or call (843) 577-FISH (3474)
For all media inquiries, please contact Kate Dittloff at (843) 579-8660 or kdittloff(at)scaquarium(dot)org.
About the South Carolina Aquarium:
The South Carolina Aquarium features thousands of amazing aquatic animals from river otters and sharks to loggerhead turtles in more than 60 exhibits representing the rich biodiversity of South Carolina from the mountains to the sea. Dedicated to promoting education and conservation, the Aquarium also presents fabulous views of the Charleston Harbor and interactive exhibits and programs for visitors of all ages.
The South Carolina Aquarium is a 501(c)(3) not-for-profit organization and is open daily from 9 a.m. to 5 p.m. (last ticket sold at 4 p.m.) The Aquarium is closed Thanksgiving Day, half day Dec. 24 (open 9 a.m. to 1 p.m.) and Dec. 25. Admission prices are: Toddlers (2 and under) free; Youth (3-12) $17.95; Adults (13+) $24.95. The Aquarium plus the 4-D Theater experience is free for Toddlers, $22.95 for Children, $29.95 for Adults. The 4-D Theater experience only is $6.95 for Children and Adults and free for Members. For more information, call (843) 577-FISH (3474) or visit scaquarium.org.
About the Watershed Campaign:
In 2014, the South Carolina Aquarium launched the Watershed Campaign to scale and optimize our education and conservation programs that enrich our community. The goal of the Watershed Campaign is to secure $25 million by 2020, enabling the Aquarium to reach nearly 70 percent more students statewide, to present world-class interactive exhibits like Shark Shallows and the Sea Turtle Hospital experience, and to launch a conservation program designed to inspire and educate the next generation of environmental stewards. For more information on the Watershed Campaign visit http://scaquarium.org/watershed/.