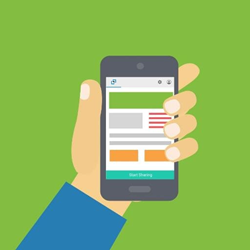 Distributors in the direct sales industry lead a mobile and social life, and often run their business on the go, using a smartphone.
SAN DIEGO, CA (PRWEB) August 17, 2016
Fragmob, a mobile sales automation software provider, today announced its partnership with ScreenMeet, the first mobile screen sharing service. The partnership will incorporate ScreenMeet functionality into the FragDS 3.0 mobile platform developed for direct selling reps, delivering an even more powerful sales and communication tool.
Designed for a mobile world, ScreenMeet lets users instantly share files, mobile websites, apps and even the camera from iOS, Android, PC and MAC and also lets viewers attend instantly from any device with no download. ScreenMeet has mastered elegant design by creating a real-time collaboration tool that's easy to use. Simply send a link to share your screen. Clicking on that link lets viewers instantly see whatever users have selected to share with them.
Once integrated into Fragmob-developed apps for direct sales corporations, independent sales reps will be able to use ScreenMeet functionality to easily share their smartphone screen with prospects, leads, recruits, customers, and team members in their business.
"ScreenMeet is excited to partner with Fragmob to equip salespeople worldwide with intuitive, mobile screen sharing," said ScreenMeet CEO Ben Lilienthal. "Because direct sales has such a strong focus on personal connections, it is imperative that the technology helps to enable those relationships. Mobile screen sharing reaches people wherever they are globally, with ease, right in the palm of their hand. Best of all, viewers don't have to download any software to view the screen share; it just works."
"Distributors in the direct sales industry lead a mobile and social life, and often run their business on the go, using a smartphone," said Martin David, Strategic Account Manager at Fragmob. "The ScreenMeet technology will empower independent sales reps to show off products, host digital parties, and train team members - all from within our app."
Fragmob and ScreenMeet will join forces this October for the Fragmob Technology Convention. The ScreenMeet team is sponsoring and attending this premier technology event for direct sales corporate executives at the Hard Rock Hotel in San Diego, CA.
About Fragmob
Fragmob is a San Diego based mobile software company offering white-label sales and productivity tools for independent salespeople worldwide. As a mobile app creator, Fragmob specializes in understanding what goes on in the brains of professionals who aren't trapped behind a computer and focuses on products and methodologies that drive, or instigate, specific actions and behaviors. Learn about instigating action at Fragmob.com.
About ScreenMeet
ScreenMeet brings mobile live sharing to everyone, anywhere. Designed for our increasingly-mobile world, ScreenMeet accelerates consensus-building and decision-making because you can instantly engage around any content - whether sitting at a desk or on-the-go using your phone. Apps, information and presentations to be shared instantly from your phone and computer to any device. Learn more at ScreenMeet.com.