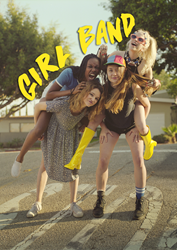 Los Angeles, CA (PRWEB) August 16, 2016
NewFilmmakers Los Angeles (NFMLA) celebrates ​cinema from around world on August 20th. This month's event​ will include a two shorts programs and a special InFocus: Youth shorts program, which spotlights coming of age stories. In between films, audiences can check out filmmaker Q&As, meet and mingle with one another in the premium South Park Center​ lounge, and enjoy cocktails on the balcony in Downtown LA. Details on the featured films playing at the film fest can be found below.
Shorts Program #1 - Experiments in Music, Dance and Art
Syncretic Noise - Directed by Stephen Bullen
A man dances secluded from a city at battle with itself. Defying conventional logic and storytelling, layered soundscapes and symbolic visuals fuel the dark atmosphere. In a hyper society portrayed in time-lapses the dancer's natural motion continues across cuts over discontinuities of space from forest landscapes to gritty urban life.
Passage To Coney Island - Directed by Harriet Feigenbaum
When pollution saturated rising seas trigger unforeseen events a lethal chain reaction is set in motion and giant carbon crabs emerge from the ocean.
Rest In Peace - Directed by Rui Peng
A commonplace insomniac wants to escape from boring life and repeating works, and finds what real peace is.
Endurable - Directed by Joseph Grout
A robot wakes up to find that he is broken, and we follow him on his journey to be more than the sum of his broken parts.
I Must Go - Directed by Sindre Ulvik Peladeau
A robot wakes up to find that he is broken, and we follow him on his journey to be more than the sum of his broken parts.
"Happy" by Mitski - Directed by Maegan Houang
In this Sirkian-horror romance, a woman in the 1950s suspects her husband is having an affair.
Sketch - Directed by Stephen Barton
A 12 year-old boy on the Autistic spectrum uses his special talents to survive on his own in an impoverished and dangerous neighborhood in Brooklyn, New York
Shorts Program #2 - InFocus: Coming of Age, T​eens and their drama
Jiaozi Directed by Lin Zhao
The only Asian-American kid at school, dumps his lunch into trashcan because his food is different from other kids, so other kids make fun of his food and laugh at him. His mother comes up with a brilliant idea that solves Ming's culture crisis.
American Virgin Directed by Tamzin Merchan
When Allie's Dad can't afford to pay for her to attend Juilliard Summer School, she decides to raise the money by selling her most precious asset.
The Sled Directed by Emanuela Ponzano
A sled brings together two boys from different countries and cultures and carries them through the winter woods of the Italian mountains, far away from their parents' prejudices and isolation. Two children, one sled and a lasting friendship.
Girl Band Directed by Kerry Furrh & Cailin Lowry & Olivia Mitchell
Four female bandmates have to deal with uncertain parental units, a desperate ex-boyfriend, and splitting a pizza on the afternoon they're supposed to leave their small Midwestern hometown for Los Angeles.
​Short Program #3 - Animals and Princess dreams
Robin & Necki - Directed by Beatrice Matis
A mouse discovers that the world is much bigger, and being together much nicer than expected.
We All Scream - Directed by Alyssa Radmand & Griffin Devine
A young woman is hired as the entertainment for a 6 year old girl's birthday party and gets mixed up in the lives of the family.
Däwit - Directed by David Jansen
The film animated in the tradition of wood cut technique tells the story of an abandoned child who grows up with wolfs after his mother rescued him from his violent father.
Cat - Directed by David Crabtree
A girl and her grandfather are stranded in the mountain wilderness and have to connect with the unseen forces of nature in order to survive.
Located in Downtown LA, South Park Center is the Presenting Venue Sponsor of NewFilmmakers LA film festival. Founded in 2007, NFMLA has screened over 1350+ films from over 67 countries. The organization provides a forum where filmmakers can be recognized with title supporters Sony Pictures Entertainment, DreamWorks, TheWrap, SAG-AFTRA, and FilmLA.
For information or to reserve tickets to the NewFilmmakers LA August 20th screening, please visit http://www.NFMLA.org and follow online on Facebook, Twitter, Instagram: @NFMLA.