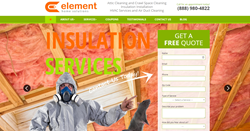 "We think our customers will appreciate the convenience and value we offer with these added services,"
Oakland, CA (PRWEB) August 12, 2016
Element Home Solutions, a long time HVAC service provider throughout the San Francisco Bay Area, has launched a new, second website to introduce their expanded service offerings in attic and crawlspace cleaning and insulation removal and replacement. "The new website focuses on 'at home' quality of life issues," says Yariv Uvan, founder of Element Home Solutions. The new offerings include:

Creating and maintaining clean and sanitary interior air quality
Clean and safe crawl and attic spaces
Noise sound proofing with better insulation
"We think our customers will appreciate the convenience and value we offer with these added services," Yariv continues.
The new mobile friendly website offers detailed explanations of every service the company offers, plus a list of real life testimonials, coupons and specials. The new website is colorful, easy to navigate and informative. It hosts an active blog containing useful homeowner tips pertaining to cooling, ventilation, heating systems, rodent proofing, attics, crawl spaces, and insulation.
About Element Home Solutions
Element Home Solutions is a one-stop shop for anyone who needs heating and cooling solutions and repairs, air duct repair and cleaning, indoor purification, attic cleaning, rodent proofing, insulation removal and installation, sound proofing and crawl space cleaning. The company performs any and all work involving the attic and crawl spaces and services most major brand air conditioning units, furnaces and HVAC systems. View their new website at http://www.ElementHomeSolutions.com to schedule an appointment today.