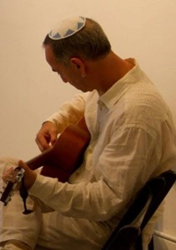 Rabbi Blane and Christian Music Producer, Billy Smiley, transcend faith to create heavenly sounds with Blane's new album of inspirational and original tunes.
Nashville, TN (PRWEB) August 17, 2016
Steven Blane, founder of Sim Shalom, the world's only online Jewish Universalist synagogue and also a singer-songwriter is heading to Nashville to record an album of his original songs.
The album, which will be produced by highly regarded Christian Music Producer, Billy Smiley will feature many of Blane's inspirational songs, two of which he will premiere live at this year's upcoming High Holiday Services at the Bitter End. The recording will take place at the iconic Dark Horse studios in Nashville.
Comfortable in the Alternative/Folk/Indie genres, Blane's songs reflect his musings on relationships, faith, love and fantasy. "I realize my song's messages regarding faith are universal- and extend beyond the scope of the Jewish world. So when I met Billy and saw him at work producing music during a previous trip to Nashville, I asked him if he would be interested in producing a Rabbi. Having heard me perform- he was all in!," says Blane.
Two of the songs, "Mountain" will be performed on Rosh Hashana and "I Confess", on Yom Kippur. Here is a link to a live acoustic performance of Mountain:
https://youtu.be/WdnIA2SpBgM
The album will be released prior to the Jewish New Year- Rosh Hashana 2016.
About Sim Shalom
Sim Shalom is an interactive online Jewish Universalist synagogue which is liberal in thought and traditional in liturgy. Created in 2009 by Rabbi Steven Blane on Manhattan's Upper West Side, Sim Shalom offers a means of connecting the unconnected. Rabbi Blane leads accessible and short Kabbalt Shabbat services every Friday night using a virtual interface and additionally Sim Shalom provides online education programs, Jazz concerts, conversion and life-cycle ceremonies along with weeknight services at 7:00PM EST led by Rabbis and students of this online community.
Rabbi Blane is also the founder and director of the Jewish Spiritual Leader's Institute,
http://www.jsli.net, the online professional rabbinical program.
Sim Shalom, a non profit 501 © (3) tax-exempt organization, nurtures a Jewish connection through its mission of innovative services, creative education and dynamic outreach to the global community. For more information visit http://www.simshalom.com or call 201-338-0165.
--