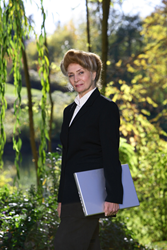 Grants Pass, OR (PRWEB) August 12, 2016
Sharon Kleyne, founder of Bio-Logic Aqua® Research Water Life Science®, announced on August 11th, 2016 that the company's 30th patent has been awarded in China. The Utility Model Patent was awarded for the company's hand-held portable personal misting humidifier.
Bio-Logic Aqua® Research Water Life Science®, awarded 29 additional global patents and 32 uncontested Registered Trademarks, is a water-only business creating advanced technology and a new water lifestyle for our planet. The water is Bio-Logic Aqua® Research Water Life Science®'s Trade Secret tissue culture grade water, which is applied to eyes and skin with the company's personal misting, hand-held humidifier.
"Periodic testing of Bio-Logic Aqua (tissue culture grade water) is conducted to guarantee that the water is of a specific quality and characteristic," says Julia Oxford, Ph.D. " Thirty years of periodic testing by a water quality laboratory has demonstrated that no changes have occurred in the quality of the water at the source." Oxford and thousands of researchers, scientists and physicians around the world have studied and endorsed the company's application device and its three products.
The products featuring this Trade Secret tissue culture grade water are Nature's Mist® Face of the Water® for dry skin, Bio-Med Wash®, the first portable, non-saline, non-chemical, emergency eye and wound wash product and Nature's Tears® EyeMist®, the first product of its kind to gain access into the medical field after test marketing in 70,000 drugstores and retail stores.
The newly awarded patent is timely because Bio-Logic Aqua® Research Water Life Science® is expanding with licensed partners into China and its vast market of 1.3 billion people. The company's protected global IP and advanced technology for a new water lifestyle will bring relief to the population, especially the 600 million Chinese who have been diagnosed with Dry Eye Disease.
"With greater industrial pollutants, vehicular emissions, depletion of the protective ozone layer and secondary environmental changes," says Dr. John Ng, "the atmospheric humidity in which we live may be adversely challenged. Additionally, artificial environments such as airplanes and modern sealed buildings also result in micro environmental conditions to which we are exposed, including the 'sick building syndrome.' Studies have shown that these changes in environmental water vapor pressure can adversely affect the health of the eye surface due to the increased evaporation of tears in lower humidity, thus disrupting the delicate balance required for moist, healthy comfortable eyes."
China purchases over 1 billion protective face masks a year at a cost of $3.50-$51 per mask. Buyers hope that the masks will protect their lungs from damage caused by pollution and loss of atmospheric water vapor caused by evaporation. Yet, there is no equivalent protection for evaporation of the water vapor of the eyes; the eyes may be even more vulnerable than the lungs. Kleyne believes that the Chinese people who use the masks will also welcome the opportunity to use the company's personal hand-held humidifiers. Dry Eye Disease sufferers will painlessly be able to mist their eyes with Bio-Logic Aqua® Research Water Life Science®'s Trade Secret tissue culture grade water.
Kleyne projects a bright future for Bio-Logic Aqua® Research Water Life Science®'s Nature's Tears® EyeMist® in China. She believes that sales will steadily expand as people learn more about its technology and realize that there is no other product on the market that can so effectively relieve the symptoms of Dry Eye Disease. The company's other products will also be rolled out in China over the next eighteen months.