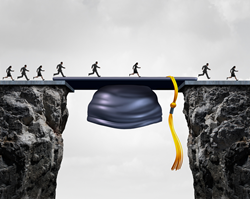 There's no doubt that MBA graduates get paid impressive salaries. In fact, their average pay is so impressive that the phenomenon has been named the 'MBA Bump'
London, England (PRWEB UK) 12 August 2016
London School of Marketing has released its latest blog post, considering the value of MBA courses. The post outlines some of the main benefits of studying for an MBA, and reveals the kinds of roles it is most useful for. Readers are given an insight into how MBAs helps graduates to develop key management skills and the level of expertise required to flourish in a range of industries.
Anton Dominique, LSM's chief marketing officer, said: "There's no doubt that MBA graduates get paid impressive salaries. In fact, their average pay is so impressive that the phenomenon has been named the 'MBA Bump'.
"The average salary for MBA graduates in the UK is now £82,000, which, compared to the national average of £26,500, is an extremely desirable wage."
LSM's latest blog post looks at how this challenging course teaches students the first-rate problem-solving skills that so many businesses look for. MBAs teach up-to-date skills and in-depth knowledge of the business world – both of which are in high demand among employers.
Readers are provided with data which shows that MBA graduates are more likely to get the job they want. According to recent research, an estimated 70% of MBA graduates worldwide are senior managers or board directors.
The post also reveals some of the jobs which require an MBA, including roles in accounting, global management, HR management and marketing.
The full blog post, including a more detailed look at MBA courses, can be viewed here. The internationally recognised qualifications offered by the school, including its MBA courses, can be viewed at http://www.londonschoolofmarketing.com/our-courses.
London School of Marketing delivers accredited marketing and business qualifications, and offers professional courses from recognised professional bodies such as CIM, EduQual and academic qualifications on Marketing, Business, Finance, Law and HRM from Anglia Ruskin University and The University of Northampton. Based in Central London, they are a QAA approved institution. The school also has offices in Sri Lanka, a network of Local Access Points (LAPs), and online programmes of learning.