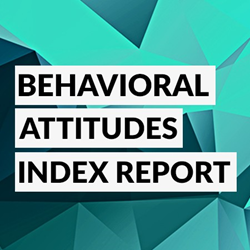 Using the Behavioral Attitudes Index, you can gauge what you are passionate about and what you are highly interested in. These are the things that keep you motivated and keep you happy.
Boardman, Ohio (PRWEB) August 18, 2016
PeopleKeys, leading International expert in Behavioral Analysis and personality assessing, announced today the release of a new Behavioral Assessment. The Behavioral Attitudes Index is a comprehensive report in the spirit of their previous personality assessments whose applications are numerous. The Behavioral Attitudes Index (BAI) gauges the underlying passions and motivations of an individual within a specific environment. This is especially useful when a Hiring Manager is looking to predict which candidate will be the best choice for a position.
The BAI uses a series of validated ipsative questions to uncover which of the six different behavioral attitudes are aligned with the test taker's underlying preferences. Behavioral attitudes coincide with the feelings and thoughts that unwittingly mold every choice a person makes. They are the internal factors that guide their decisions, tastes, and behaviors: the hidden influences that compel and inspire them. The application of this knowledge to the hiring process can enable managers to gain indispensable insight into how a potential employee might fit into their existing corporate culture, and which position they would be internally motivated to excel in.
"Using the Behavioral Attitudes Index, you can gauge what you are passionate about and what you are highly interested in. These are the things that keep you motivated and keep you happy. When we work on tasks or in positions that are not aligned with our Behavioral Attitudes, we tend to feel stressed and unhappy - increasing turnover. When employees are engaged in tasks that complement the behavioral attitudes they value, we tend to classify them as having a "good" attitude. To them, though, it just means that they are doing the things that come naturally to them - the things that they enjoy devoting energy toward." said Kaitlyn Miller, Marketing Manager at PeopleKeys. "Knowing what behavioral attitudes your employees value gives a manager a lot of insight into how they think and what motivates them. For example, an employee who values the Economic/Tangible behavioral attitude is motivated by the security that economic stability can bring. They are the type of person who always keeps the financial bottom line in mind when they make decisions. In many cases, this is the type of person who is great at closing a sale, for example. A manager can use this type of people analytics to decide who to hire and which position is a good fit for which individual. They can also use this information to incentivize and motivate their employees. For example, the person in this scenario who values the Economic/Tangible would be best incentivized by a bonus or commission, and might not be as motivated by verbal praise or a change in title."
PeopleKeys BAI is a highly customizable product that can be adjusted to incorporate a company's hiring benchmarks. Hiring managers can work with the PeopleKeys experts to create benchmarks, or behavior range recommendations, which will allow companies to replicate highly successful employee's traits and behaviors and to avoid replicating those of less successful employees. Also taken into account are the requirements for the position and the work environment. The goal is to filter qualified applicants based on their behavioral strengths and motivations to find the employees who will be most successful, content, and self-motivated in this placement.
To have a free PeopleKeys 2.0 account created for you, please contact PeopleKeys at sales(at)peoplekeys(dot)com or 330-599-5580. To purchase individual assessments without an account, please go to the DISCInsights online store, powered by PeopleKeys.
ABOUT PEOPLEKEYS
PeopleKeys has been an International leader in behavioral analysis and personality for over thirty-five years. They have been providing assessments to measure the correlations between personality and behavior in order to enhance productivity, improve relationships, reduce stress and minimize conflict. PeopleKeys' DISC based personality assessments and Behavioral Analysis tools, reports, and assessments have been translated into over a dozen languages and are available Internationally.