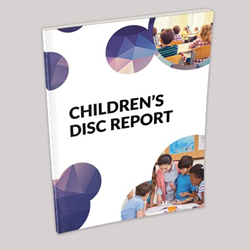 If I had an understanding of this even at a younger age it would have helped me immensely and kept me from feeling "different" from other children.
Boardman, Ohio (PRWEB) October 11, 2016
International Behavioral Analysis and personality assessment leader, PeopleKeys, recently announced a new assessment focused on a largely ignored demographic - The Children's Report. This personality assessment focuses on the needs, motivations, thinking, decision-making processes and communication styles of children. It offers a glimpse into the mindset of the child, qualifying the adult in their life to make informed decisions about how to interact with them, motivate them, and empower them to succeed.
This new assessment was designed to help encourage an understanding of the characteristics of each of the different personality styles as they relate to children. It focuses on understanding how they see relationships, how they interact with other people, and what their personal challenges might be. Adults can use this knowledge to identify what changes they want to make when they interact with the child.
"It sets the framework and creates the language for leading the student into a more introspective, growth-oriented mindset. It can give them insight into how they make decisions, or how much attention they will pay to details, if they would rather lead or follow, or simply if they should be left to work alone. The more knowledge they can gain about themselves and the people around them, the more they can accomplish," said Kaitlyn Miller, Marketing Manager for PeopleKeys. "It also helps their parents and teachers to understand how they can motivate them, and gives them a means for understanding a child that might have been confusing or frustrating because their personality differed from that of the adult."
Dr. Brad Smith from PeopleKeys comments, "While I always excelled in my academic efforts, I really struggled with certain teachers, certain classes. I found out later in life my style of communicating and listening corresponded to only about 3% of the population. I now know the teachers I liked and really learned the most from were those communicating in my "native language". If I had an understanding of this even at a younger age it would have helped me immensely and kept me from feeling "different" from other children."
The Children's Report assesses the personality of the child using the highly validated DISC theory based model. The report that is generated from the assessment covers the strengths and growth areas for the student, descriptions of their personality style and the personality styles of other people, and tips for both the student and teacher or parent. The tips are suggestions for using the strengths of their personality style to overcome its potential limitations. It also offers suggestions for the parent or teacher interacting with this student that are founded in an understanding of the adult's personality.
This assessment can be used to help students improve their relationships with peers, teachers, and parents. It can also be used to enhance empathy and communication between the child and the adults in their life.
To learn more, please contact PeopleKeys at sales(at)peoplekeys(dot)com or PeopleKeys Marketing Manager Kaitlyn Miller 330-599-5580 X113.
PeopleKeys has been a thought leader in Behavioral Analysis and personality assessment for 35 years. Their Internationally available products have been translated into over 24 different languages. Their expertise on the subject of behavioral analysis and personality has been used for decades to improve relationships, increase productivity, diminish conflict and minimize stress. Their DISC theory based assessments, reports, Behavioral Analysis tools and reports measure the correlation between personality and behavior and can be applied to the fields of education, business, ministry, counseling, and much more.