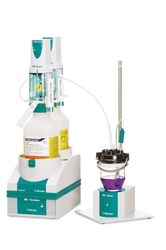 Riverview, FL (PRWEB) August 15, 2016
Method D8045 demonstrates the superiority of thermometric titration for complex petroleum samples as it is significantly faster, requires less maintenance and consumes less reagent.
Thermometric titration uses a highly sensitive, fast responding electrode that detects enthalpy change at the endpoint. This method requires no sensor maintenance aside from a solvent rinse, needs no hydration and requires no calibration. New chemistries used in ASTM D8045 significantly lower the costs per analysis by consuming less reagents that require costly disposal.
Acid Number (AN) is a critical quality control parameter for crude oil and petroleum products. The accuracy of the AN influences the commercial value of crude oil and the profitability of a refinery. Acidic compounds lead to corrosion in petroleum refining and transportation infrastructure, therefore accurate AN measurements are necessary for safe operation. The commercial and corrosion impact of the AN make it central to quality control laboratories throughout the industry.
More information can be found at http://www.metrohm.com/TAN. The method and its application to crude oil and petroleum products is described in Metrohm Application Note AN-H-141 and in more detail in Metrohm Application Bulletin 427. Method D8045 can be obtained from the ASTM website, http://www.astm.org.
Company Description:
Metrohm offers a complete line of analytical laboratory and process systems for titration, ion chromatography, electrochemistry and spectroscopy. From routine moisture analysis to sophisticated quantification, we are ready to help you develop your method and configure the optimum system. Move your analysis from the lab to the production line with our dedicated process analyzers. At Metrohm we provide systems that find solutions. http://www.metrohm.com