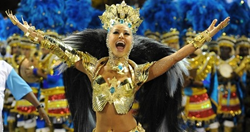 Carnival in Rio is the legendary celebration that brings out the country's samba schools.
Glendale, CA (PRWEB) August 16, 2016
The Olympics may have put the spotlight back on Rio, but locals know the show is never really over. Goway is offering Globetrotters the chance to experience the city that parties 24/7 with new offers on Brazil tours to Rio over New Year's Eve and Carnival.
Globetrotters booking Rio with Goway over NYE can party with the Cariocas on Copacabana Beach, ringing in the New Year with a saving of 10%, plus a complimentary room upgrade. New Year's Eve is a fun party almost anywhere in the world. But a warm summer's night, combined with a peerless setting and the party-loving spirit of the Brazilians makes a Rio New Year's a unique holiday never to be forgotten.
Brazil, however, saves its biggest party for February. Carnival in Rio is the legendary celebration that brings out the country's samba schools. Locals and visitors alike are dazzled by the colours, rhythms, and floats of the occasion, which come together in one great burst of energy and fun before the start of lent. Goway is offering its Rio Carnival package starting at just US$2299/CA$2949. The 6-day package allows travellers to see one of the world's most remarkable events first hand while also enjoying the many famous sights of Rio de Janeiro. A complimentary upgrade is also available to travellers booking this trip.
All Goway Carnival itineraries include Rio airport transfers, a private Rio city tour, a visit to Corcovado and Sugar Loaf, private transfers to and from the Sambadrome, reserved seating in Sector 9, a favela tour, all taxes, plus all breakfasts and one lunch. They can be booked independently, or in conjunction with almost any of Goway's other South America tours.
Rio is an awe-inspiring coming together of city, beach, and jungle, all watched over by Christ the Redeemer. Offering a great party at any time of year, Rio during New Year's Eve or Carnival is an experience not to be missed.
Since 1970, Goway has been providing unforgettable travel experiences to Africa, Asia, Australia and New Zealand, polar and idyllic island destinations, Europe and South America. Today Goway is recognized as one of North America's leading travel companies for individuals, families and groups to select exotic destinations around the globe. Goway has offices in Los Angeles, Vancouver, Toronto, Manila, and Sydney (Australia).
For reservations and information, visit http://www.goway.com, or call 1-800-387-8850.