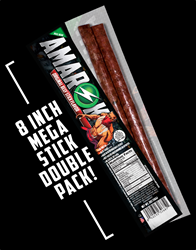 We're just two nerds bringing our greatest passions together while trying to help local children's charities - Comic Books and Nutrition!
Sparta, NJ (PRWEB) August 14, 2016
Today, Superpowered Nutrition, LLC, a high protein functional food company, announced the launch of their first product line – Amarok, high-protein, grass-fed beef snacks. Geared towards comic book fans and gamers, Superpowered Nutrition is capturing the imagination and growing trend of super heroes in the marketplace just like the Olympics are today.
Of the company's recent launch, Rich Fitter, co-founder, said "We are just two nerds bringing our greatest passions together while trying to help local children charities – comic books and nutrition." He continues on to say "our mission is to help our fellow geeks and nerds get into the super hero shape they want and that all starts with the right food choices!"
Crimefighters have exploded in mainstream media over the past few years. Indeed, the popularity of these heroes have created a whole new group of comic book fans through Netflix, movies and TV programs. With this in mind, Superpowered Nutrition has created a line of products for fitness-minded with a similar heroic theme. Each product will have a comic book character created around it, utilizing the Superpowered Nutrition team which also consists of a former DC Comics Editor plus current and future published comic book artists.
"We'll be launching many firsts in the industry, high-protein snacks that have not been seen before in the industry." Stated Jeff Baitinger, Superpowered Nutritions other co-founder. Created by comic book fans for comic book fans it's time to unleash your inner hero!
What is Amarok? Using Paleo-friendly premium grass-fed beef, Amarok giant 8" beef sticks contain 20 grams of high-quality protein, with 0 grams of sugar and 8 grams of fat per package. At 160 calories, Amarok satisfies even the most savage hunger, without any artificial preservatives, added hormones, antibiotics, gluten, soy or MSG. Amarok beef sticks contain 2-3X more protein than the leading beef stick!
Who is Amarok? Based on Inuit mythology, Amarok is part man, part wolf with supernatural abilities. And much like our beef snacks, Amarok is more powerful than the norm, with enhanced strength, speed and stamina. Anyone looking to add a high-quality, real food protein to their diets can add Amarok premium beef snacks as their healthy snack-on-the-go!
About Superpowered Nutrition, LLC: A high protein functional food company based in Sparta, NJ. Founded in 2015, Superpowered Nutrition has developed and produced various snacks sold throughout the comic book/gaming world and can be seen at this years Wizard World Chicago on Aug 18-21st.
Visit http://www.areyousuperpowered.com and sign up for the newsletter, get free workout and nutrition tips and join the superpowered team! For distribution of Superpowered Nutrition products, contact jeff(at)areyousuperpowered(dot)com.