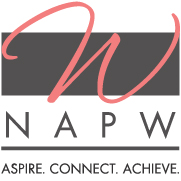 Local Chapters recognized women who dared to take the risk and step outside their comfort zones to pursue their dreams of entrepreneurship.
(PRWEB) August 14, 2016
NAPW members nationwide celebrated Personal Passions and Entrepreneurial Month by showcasing their personal passions and sharing their secrets for entrepreneurial success. Local Chapters empowered professional women to pursue their dreams of owning their own businesses with hands-on networking events, tips from successful entrepreneurs and strategies for effectively using social media. Members and guests also did their part to make a difference in their community by giving back to those in need through fundraisers. Together, NAPW Chapter members set new goals for personal and professional success.
"This July, the professional women of NAPW embraced what they are passionate about and empowered one another to do what they love and love what they do," said NAPW President Star Jones. "Local Chapters nationwide held motivational networking events that highlighted their entrepreneurial spirits. Passion equals Power! It's our passion that powers us with the motivation to succeed."
At Chapter events in NAPW's Eastern Region, members gathered together to support and encourage one another. The Forest Hills, NY, Local Chapter hosted a discussion that featured one distinguished businesswomen: NAPW member Kimberly Gilgeours, who educated attendees on how to build a strong financial foundation. In Ocala, FL, members heard from Dr. Brooke Silberhorn, who opened her own chiropractic practice after following her dream of owning a private practice. Meanwhile, in Orlando, FL, members were able to network on an intimate level and build strong relationships with fellow members and guests. They shared their passions and provided one another with encouraging thoughts and support. Guest speaker, Zulmarie Padin, spoke with all of the members and guests in Pembroke Pines, FL, and helped them network, all while learning new professional techniques. Our Philadelphia, PA, hosted an extremely informative Chapter meeting. The presentation, "Generating a Savings," provided members with information on how to access savings for both residential and business purchases. NAPW member, Harnitha Armstrong, shared numerous ways to capture online savings on travel, gift cards, websites, computers, household and office supplies. Under the guidance of Edward Jones, the members participated in the Five Money Questions for Women, and learned some valuable information on leading the future of their legacy with a clear financial plan. NAPW's NYC Local Chapter hosted a special rooftop event, where they networked and raised money for Save a Child (America) Inc. The aim of the organization is to give some of India's deprived children a better chance, and to enable other people to do the same. The attendees raised more than $3,000 while networking and making connections. It was a wonderful event with a great outcome.
In NAPW's Western Region, professional women joined together to learn from each other. Located in California, North Orange County's Local Chapter hosted an event with presenters Ann Bennett and Belinda Piana. This event's special guest was Ruth Garcia, who is the West Coast Regional Director of NAPW. The speaker, Leanne DiSanto, spoke about the sure things we all know and the obscure things we kind of know: which makes a good reality check in dealing with situations at hand. This was all based around her, "From Frazzled to Flow Living a More Energized and Empowered Life." Excitingly, Oakland's Local Chapter hosted their first meeting of the year. This launch meeting discussed NAPW's mission and organizational goals were reviewed. They all took turns introducing themselves and shared their vision and leadership roles. Our Tacoma, WA Local Chapter hosted a meeting, From Passion to Profits. The presentation discussed why it's important to create a vision of who you want to become and what you want to have in the future.
"Local Chapters recognized women who dared to take the risk and step outside their comfort zones to pursue their dreams of entrepreneurship," said Louise Newsome, NAPW National Director of Chapters and NYC Chapter President. "We're inspired by members' stories of the necessary steps they take in order to build a business of their own."
Professional women in NAPW's Central Region also welcomed guest speakers who offered their advice for running a successful business. In Indianapolis, IN, discussed the opportunity to partner with Dress for Success and how volunteering can lead to finding a passion. The Birmingham, AL, Chapter focused on developing stronger relationships with one another and were encouraging and uplifting while providing each other with support. In Plano, TX, members crafted their own "memorable marketing message." Members took turns writing who they are and what they do, and how to communicate their message with others loud and clear. Our Springfield, MO, Chapter got expert tips and spoke about their "money personalities." All had a great time listening and networking.
For additional information about NAPW and its Local Chapters, please visit http://www.napw.com
Follow NAPW on Facebook, Twitter, NAPW Foundation Facebook and NAPW Foundation Twitter.
About NAPW
NAPW defines success as "owning your own power." As the largest, most-recognized networking organization of professional women in the country, spanning virtually every industry and profession, the National Association of Professional Women (NAPW) is a powerfully vibrant networking community with more than 850,000 members, over 200 Local Chapters and a thriving eChapter with more than 17,000 members. NAPW members have diverse backgrounds, beliefs, perspectives and lifestyles with one common bond – their ability to succeed. NAPW's mission is to provide an exclusive, highly advanced networking forum to successful women executives, professionals and entrepreneurs where they can aspire, connect and achieve. Through innovative resources, unique tools and progressive benefits, professional women interact, exchange ideas, advance their knowledge and empower each other.