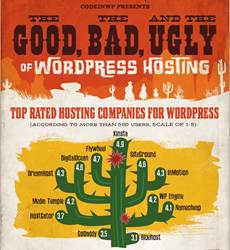 I believe that initiatives like this are our only chance to really find out who leads the web hosting market for WordPress
Bucharest, Romania (PRWEB) August 15, 2016
CodeinWP – leading WordPress blog for site creators, developers, and WordPress users has released the results of what has turned out to be the biggest WordPress hosting survey to date (considering the number of survey respondents). Along with an article announcing the survey results, the company also prepared an infographic that provides a more visual representation of the data.
The main goal of the survey was to identify the top WordPress web hosting companies according to user input, rather than relying on the companies themselves to deliver accurate information about the quality of their services.
"I believe that initiatives like this are our only chance to really find out who leads the web hosting market for WordPress," said Ionut Neagu, CEO of CodeinWP. "I mean, in today's day and age, it's hard to believe various marketing materials that each web hosting company puts out there. Those materials always present the company as the best provider in the game, but real user reviews sometimes tell a different story."
And this indeed seems to be the case with these survey results. The companies that have been seen as mainstays in the industry did not fare well in the survey, with users being disappointed in them more often than not.
The new players in the WordPress hosting game, on the other hand, have proven to be able to deliver really quality services and a high level of customer support.
"We also wanted to focus on WordPress optimization specifically," Ionut Neagu continued. "What I mean is that as a WordPress site owner, you really have no way of knowing if your web host understands the platform enough to help you in case of trouble. Something like this you only find out after testing that host on your skin, so to speak. With a survey like this one, though, we can reach real users who have their own first-hand experiences."
The survey focused on a handful of matters related to WordPress hosting, including: how happy users are with their current hosts, how likely they are to recommend their hosts to other users, how much money users tend to spend on hosting, what the most popular hosting companies are, and much more.
"The survey taught us a lot about the actual web hosting setups that users have," Ionut Neagu added. "For instance, a piece of insight that was very surprising to us was that, on the average, users host 10 websites with their web hosting company."
For more information, and the complete survey results + an infographic, please visit: http://www.codeinwp.com/blog/wordpress-hosting-survey-results/