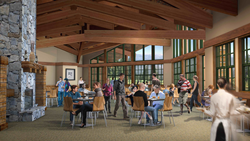 Upgrading Grant Grove Restaurant has been a central part of our vision for enhancing the overall visitor experience.
Kings Canyon National Park, Calif. (PRWEB) August 15, 2016
Generations of Kings Canyon National Park guests have enjoyed seasonal American cuisine served at the family-friendly Grant Grove Restaurant. While the restaurant has been feeding park visitors since the 1970s when it opened as a coffee shop, today's visitors have higher expectations for both the food and the setting.
Building and environmental standards have also evolved and will play a prominent role in the design of the new Grant Grove Restaurant. The design is aimed at LEED Gold certification, and the $6.2-million project will feature an 8,000-square-foot restaurant, which will be built using sustainable materials and construction techniques.
"Upgrading Grant Grove Restaurant has been a central part of our vision for enhancing the overall visitor experience," said John Motley, hotel operations manager for Delaware North at Kings Canyon National Park. "The new facility will raise the Grant Grove dining experience to match today's visitor expectations."
Taking advantage of the spectacular setting, the restaurant will feature enhanced views of Bradley Meadow. The inside seating capacity will be increased to 108, with outdoor deck seating for 48, and a large courtyard area with picnic tables that will seat about 75 people. A fireplace, large windows, vaulted ceilings and efficient layout will greet visitors inside, and a large modern kitchen will serve behind the scenes. For those in a rush or wanting to maximize their outdoor time, a walk-up service window on the exterior will enable visitors to purchase to-go items such as pizza, sandwiches, coffee and—of course—ice cream.
The original structure featured a small lunch counter, which served park visitors until the restaurant was expanded to its current size. It has had few changes since then other than the conversion of the former Sequoia Room Bar into overflow seating for the restaurant. In 2013, when Delaware North's parks and resorts business was awarded the Kings Canyon National Park concession contract, updating the Grant Grove Restaurant was high on its lists of planned improvements immediately following planned lodging upgrades. In 2014 and 2015, Delaware North completed renovations to the Grant Grove Cabins, John Muir Lodge and Cedar Grove Lodge.
Current Grant Grove Dining Options
The Grant Grove restaurant closed May 21, and alternative options are currently available, such as:

The Grant Grove Market, which offers "grab and go" meals, pizza by the slice, and microwaveable breakfast burritos, biscuits and other choices.
An Outdoor Food Court in Grant Grove Village offering meals to overnight guests and day visitors alike.
Overnight guests at John Muir Lodge and the Grant Grove Cabins who have booked a package that includes breakfast can choose a continental breakfast at the John Muir Lodge Lobby or a-la-carte breakfast items at the Outdoor Food Court or Market.
Peaks Restaurant at Wuksachi Lodge and Wolverton Barbecue in neighboring Sequoia National Park are both functioning as normal (roughly a 45-minute drive from Grant Grove).
Food options may change seasonally and guests are encouraged to check the website for updates. To view updates and learn more about lodging in Sequoia and Kings Canyon National Parks, please visit VisitSequoiaKingsCanyon.com.
About Delaware North
Delaware North is one of the largest privately-held hospitality and food service companies in the world. Founded in 1915 and owned by the Jacobs family for 100 years, Delaware North has global operations at high-profile places such as sports and entertainment venues, national and state parks, destination resorts and restaurants, airports, and regional casinos. Our 60,000 employee associates are dedicated to creating special experiences one guest at a time, serving more than 500 million guests annually. Delaware North has an annual revenue of about $3 billion in the sports, travel hospitality, restaurants and catering, parks, resorts, gaming, and specialty retail industries. Learn more about Delaware North at http://www.delawarenorth.com.
About Sequoia & Kings Canyon National Parks
This press release is issued by Delaware North. For additional information on Sequoia & Kings Canyon National Parks, please visit NPS.gov/SeKi or contact Dana Dierkes; Chief, Branch of Communications and Outreach; at dana_dierkes(at)nps(dot)gov or 559-565-3131.