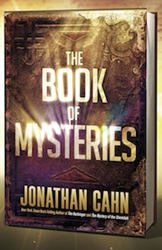 Lake Mary, FL (PRWEB) August 15, 2016
Jonathan Cahn—New York Times best-selling author of the international sensation The Harbinger—is back, this time mixing potent Bible passages and end-time insight in The Book of Mysteries, debuting September 6, 2016.
"Readers will step into an unusual journey of divine revelation," Cahn said. "From the deep truths of God's Word emerge important spiritual insights and end-time mysteries."
From FrontLine publishers, The Book of Mysteries follows a traveler's one-year journey with a man known only as "the teacher." Each day, the teacher opens the reader and traveler's eyes to a profound mystery from God's Word.
Masterful storyteller Cahn locks in readers' imaginations even as he discusses biblical insights from more than thirty years of preaching and teaching. Given its 365 entries, The Book of Mysteries also may be read as a daily devotional.
Cahn is senior pastor and Messianic rabbi of the Jerusalem Center/Beth Israel in Wayne, New Jersey, and founder and president of Hope of the World ministries. Raised in a Jewish family, he became an atheist as a young man. Following a miraculous escape from a catastrophic car/train collision, however, he converted to Christianity.
Cahn gained national attention in 2012 with The Harbinger, a parallel of the United States following the 2001 terrorist attacks and Israel's history. The Harbinger debuted on the New York Times best-seller list and stayed there for 100-plus weeks.
"The prophetic writings of Jonathan Cahn have reverberated through the halls of our public square to the pulpit," said Tessie DeVore, publisher of Charisma House book group. "We fully believe in his message and its ability to stir national dialogue. Cahn's revelations have already become a catalyst and rallying cry for America to return to God, and much more is to come."
Visit Lovell-Fairchild.com for:

The Book of Mysteries media tip sheet
Q&A with Jonathan Cahn
Suggested interview questions
About Charisma House - MysteriesBook.com
Charisma House empowers people through Spirit-inspired resources. It is the leading publisher of diversified Christian resources that motivate people to fulfill God's purpose. For over twenty-one years, Charisma House has published books that challenge, encourage, teach, and equip Christians, including twelve New York Times bestsellers.