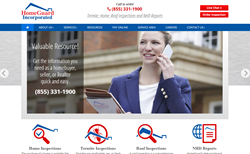 "We wanted to make sure that HomeGuard's customers - whether a homebuyer, seller, or realtor - would have the tools necessary to request any inspections or information within a seamless and easy to use interface,"
San Jose, CA (PRWEB) August 12, 2016
HomeGuard Incorporated, a premier California based real estate inspection company, proudly announces the launch of their new website and learning platform. The site is designed with an intuitive and easy path to desired services, a well-maintained blog, and an interactive menu focused on empowering users through information about their services and the industry as a whole.
HomeGuard President James Hefferson Jr. knows exactly what it takes to succeed amidst the unique and high demands of the Northern California real estate market. By choosing KO Websites, Inc. to build the new site, Hefferson has paired that knowledge with a sleek and easy to use website. "We wanted to make sure that HomeGuard's customers - whether a homebuyer, seller, or realtor - would have the tools necessary to request any inspections or information within a seamless and easy to use interface," said Ken O'Donnell, KO Websites' Founder & President.
To enhance the customer experience, the website allows the user to:
Place an inspection order
Request NHD reports
Request repairs
Book an appointment
View service areas
Have a live chat with an agent
Above all, HomeGuard continues to deliver home, roof, and termite inspections, as well as repair, and reporting services, at an elite A+ standard. Now their website can keep up with the company's high standards.
About HomeGuard Incorporated
HomeGuard was founded in 1988 in the Bay Area, California. Its staff of inspectors and agents are committed to a culture of customer success and satisfaction. HomeGuard specializes in home, roof, and termite inspections, as well as home repair, Natural Hazard Disclosure reports, and warranty services. For more information please call (855) 331-1900 or visit http://www.HomeGuard.com
About KO Websites, Inc.
KO Websites is an award winning full service website design and digital marketing agency based in the San Francisco Bay Area. The company specializes in responsive mobile, WordPress web design, search engine optimization (SEO), search engine marketing (SEM PPC Adwords), social media marketing, social media advertising, and video marketing. For more information, please visit http://www.ko-websites.com.