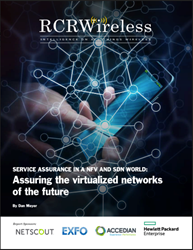 The hype around the benefits of virtualization remains robust, but there's some disconnect between supported service level quality and what is required by telecom operators.
Austin, Texas (PRWEB) August 15, 2016
RCR Wireless News spoke with more than a dozen companies, including telecom operators like AT&T, Verizon Communications and CenturyLink; vendors like EXFO, Hewlett-Packard Enterprise, NetScout, Accedian, and Centina Systems; and sought insight from industry analyst firms Exact Ventures, Senza Fili Consulting and IHS Markit to get a thorough update on the current service assurance market as the telecom space migrates to greater software control.
The report, entitled: "Service assurance in a NFV and SDN world: Assuring the virtualized networks of the future," contains insight into the current telecom market for NFV, SDN and cloud services; how leading-edge telecom operators view current service assurance platforms designed to work in virtualized environments; challenges they see in handling hybrid deployment environments that are expected to be around for several years; and how the vendor community is changing their own business and operational models in dealing with the growing software wave. The report also looks at specific use cases in the form of voice-over-LTE and voice-over-Wi-Fi that are seen as harbingers for the ability of service assurance platforms to operate in virtualized and hybrid network environments. This insight comes from speaking with carriers, industry analysts and vendors that are at the center of the telecom market's evolution towards virtualization platforms.
Download this report to learn:

Financial investment predictions for the NFV, SDN and cloud space
Progress of telecom operators deploying NFV, SDN and cloud technologies
Which carriers are leading and which carriers are following
Benefits and challenges expected for telecom leaders and followers
What parts of the telecom network are witnessing virtualization moves
The impact standards and interoperability are having on deployment plans
Depth of expected deployment in telecom networks
Watch the complimentary editorial webinar featuring:

Dan Meyer, Editor-in-Chief, RCR Wireless News
Greg Collins, Founder and Principal Analyst, Exact Ventures
Chris Rice, VP of Advanced Technologies and Architecture, AT&T Labs
Vikram Saksena, Office of the CTO, Cable Markets, NetScout
Ihab Mahna, Solutions Architect, EXFO
Bala Thekkedath, Director of Marketing NFV, Hewlett-Packard Enterprise
"In terms of the ability for service assurance platforms to handle the needs of these new deployment models, the journey continues and expectations are that advances will allow for this evolution of service assurance to meet the challenge," Meyer explained. "The market might not be ready for large-scale rollouts today, but it appears to be only a matter of time."
About RCR Wireless News
Since 1982, RCR Wireless News has been providing wireless and mobile industry news, insights, and analysis to industry and enterprise professionals, decision makers, policy makers, analysts and investors. Our mission is to connect, globally and locally, mobile technology professionals and companies online, in person, and now on video. Our dedication to editorial excellence coupled with one of the industry's most comprehensive industry databases and digital networks leads readers and advertisers to consistently choose RCR Wireless News over other industry publications. http://www.rcrwireless.com