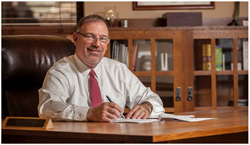 It is important to note, however, that the individual/patient/client must request these records, not the attorney representing them.
Orlando, FL (PRWEB) August 15, 2016
If a law firm relies on medical records in their cases, the Health Information Technology for Economic and Clinical Health Act (HITECH) can help. Medical records are the most important evidence in numerous types of claims, but their costs, until recently, may have been prohibitive to law firms as well as clients.
"This is why HITECH is so important for law firms and their clients," said Howard Olinsky, founder and managing partner of Olinsky Law Group. "HITECH, although enacted in 2009, has only recently received attention as a powerful tool for patients and their representatives, as it requires medical facilities that maintain electronic records to make such records available to patients who request them at no more than the cost of labor and copying supplies."
For Social Security lawyers who need to utilize HITECH and gain access to the electronic medical records of their clients, Olinsky lists the following three benefits:
No. 1: Reasonable cost. "Under HITECH, medical facilities must provide records stored electronically for the cost of the digital transmission of electronic medical records, or the cost of copying such files onto a CD or flash drive," said Olinsky. "The only fees with respect to electronic records a medical facility can charge for is labor for copying the protected health information; supplies for creating the electronic media, such as if the patient requests an electronic copy be provided on portable media; postage, if the individual requests it be mailed; and for preparing and explaining a summary of the medical records provided, should the individual agree to such a summary."
No. 2: HITECH can save hundreds of dollars per case. The cost of copying data to a CD or transmitting electronic records should only be a minimal amount compared to ordering paper medical records from medical facilities or contracted copying companies, which can cost hundreds of dollars. "It is important to note, however, that the individual/patient/client must request these records, not the attorney representing them," said Olinsky. "But the HITECH legislation provides that the individual/patient/client can designate the receipt of such records to their attorney (or any third party), provided that the request is in writing, signed by the individual, and clearly identifies the designated person and where to send a copy of the protected health information."
No. 3: Quick turnaround. Medical facilities must provide the electronic medical records within 30 days of the receipt of the written request from the individual/patient/client, absent a few situations outlined in the regulations that clients should speak with their lawyers about.
"Lawyers should take HITECH seriously as a means to reduce costs to their clients and their firms," said Olinsky. "This is key legislation that may help save significant costs and reduce wait times, especially as more and more health facilities store their medical records electronically."
About Olinsky Law Group
Olinsky Law Group, whose practice is limited to Disability Law, has thirty years' experience with client-first representation. Olinsky Law Group is a nationally recognized Law Firm representing hundreds of Social Security claimants in Federal Court each year. The firm has offices in Orlando, FL, and Syracuse, NY. For more information, please call 1-888-WIN-SSDI, or visit http://www.windisability.com.
About the NALA™
The NALA offers small and medium-sized businesses effective ways to reach customers through new media. As a single-agency source, the NALA helps businesses flourish in their local community. The NALA's mission is to promote a business' relevant and newsworthy events and achievements, both online and through traditional media. For media inquiries, please call 805.650.6121, ext. 361.