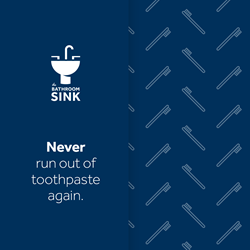 The Bathroom Sink is essential for my daughter, a college athlete, who often does not have the time to run the 'necessary' errands on weekends.
Phoenix, AZ (PRWEB) August 18, 2016
The Bathroom Sink is an online service that keeps track of their members' usage of toiletries and refills them before the products runs out. This tool is ideal for the busy on-the-go college student that doesn't always have access to a nearby drug store, car or can just be forgetful.
The Bathroom Sink conducted user testing and discovered that parents and college students alike were delighted in the ease of use. Robin LeMarr, mother of two college students at Northern Arizona University, said: "The Bathroom Sink is essential for my daughter, a college athlete, who often does not have the time to run the 'necessary' errands on weekends. Our son is organized, but with work and school, doesn't always have ability or desire to shop." She further went on to explain, "This tool is also great for my personal use. I set it up for my husband and I, both working empty-nesters who would rather take advantage of the newly-found free time than to shop, as well as my aging mother. Now I remember to order and ship her products to her and don't have to worry that she is without something she needs on a daily/weekly basis."
"The Bathroom Sink is a tool we invented because it is time for the web to start anticipating your needs. The service helps people cut back on errands and get back to doing the things they love," says founder and CEO Joe Doucett. In fact, the tool is ahead of the emerging online shopping marketplace as many people still don't buy their bath products online. A Personal Care study of top brands shows that, currently, only 3% of the $50bb Personal Care industry's sales take place online. Estimates predict that e-commerce shopping for these products will double by 2018 and triple by 2020.**
About The Bathroom Sink:
The Bathroom Sink is a subscription-based service, where users can customize a plan for delivery of their favorite toiletries based on their personal preferences. Using the data provided from a profile the users develop, the tool intuitively predicts when products reach their end in an effort to eliminate needless errands and wasting time. Headquartered in Phoenix, The Bathroom Sink is the brainchild of CEO Joe Doucett, who assembled a team of tech and digital strategy experts to design and develop an innovative technology that transforms the online shopping experience. For more information on The Bathroom Sink, visit: http://www.thebathroomsink.com/
** L2's Digital IQ Index®: Personal Care U.S. 2014