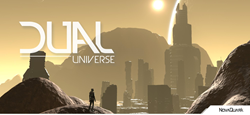 Paris, France (PRWEB) August 16, 2016
Paris-based game studio Novaquark has disclosed today how its proprietary Continuous Single Shard Cluster technology, developed for its upcoming title Dual Universe, empowers fans of MMO games with new emergent gameplay experiences, seamlessly blending interactions between players into one single universe and server. Novaquark leads the way for Massively Multiplayer Online games technological advancement and displays innovation for the popular PC genre, by offering a unique server and data management mechanic never been implemented in the gaming industry before. The server technology video released today illustrates in details how the server cluster manages the universe data and load distribution when players are connected online, with a dynamic space splitting approach. The direct results enable for a very high density of players to exist together and at the same time in a continuous single-shard universe, where large scale emergent interactions can take place without loading time and lag.
"The team at Novaquark has been hard at work for more than three years already to bring the high level concept of continuous single chard cluster to life and forge the foundations for Dual Universe emergent gameplay. The rise and advancement of cloud computing have opened up new opportunities for developers to create unparalleled game design architectures. We are thrilled to pioneer an exciting new era of the MMO genre and show with the server technology video that Dual Universe features incomparable evidence of this cutting-edge technology." says Jean-Christophe Baillie, founder and president of Novaquark.
Novaquark has released the server technology video, which can be viewed in the link below and showcased with a live demo during Gamescom from Wednesday August 17 to Friday August 19, Hall 3.2, room D-017i.
https://www.youtube.com/watch?v=QeZtqoydXpc
Jean-Christophe Baillie also highlighted recently in an article why the Continuous Single-Shard technology was crucial in terms of gameplay and user experience, and why this could potentially redefine the genre. Novaquark's Continuous Single Shard technology is also tightly coupled to its custom planetary voxel technology that will allow players to freely edit the world and build any construction they like with no size restrictions, from space ships to cities to giant space stations.
Built on top of Novaquark's Continuous Single-Shard Cluster technology, Dual Universe is a upcoming Sci-Fi sandbox MMOPRG taking place on millions of planets, and focusing on massively emergent gameplay. Players are free to create their own economic or political systems, gather in organizations and explore the procedurally generated world for resources and opportunities. Quite uniquely, players are also able to modify the voxel-based world: create cities, various scriptable constructs like vehicles, space ships or giant orbital station, with no limit in size or ambition. All players share the same gigantic "continuous single shard" universe: there is only one reality, one world, giving birth to emergent organizations and player specializations around activities like building, politics, security, piracy, space colonization and exploration, logistics, harvesting, manufacturing or industry production. Dual is a game where players are invited to rebuild civilizations together.
Dual Universe Gameplay Features
● Boundless Massively Multiplayer Game: potentially millions of players can share the same universe at the same time. One world, no boundaries, no zones, no instances.
● Rich emergent gameplay mechanisms enable players to create their own societies.
● Fully editable world: dig, deploy, craft, create and shape almost everything.
● Giant player-made ships and constructions can be inhabited and host large crews.
● Immersive first person view in a futuristic sci-fi universe.
● Realistic in-game economy (based on market orders and financial tools).
● Scriptable constructions (ships, buildings, etc) using LUA: players can build their own piloting, AI or factory automation.
Technological Features
● Continuous Single-Shard Cluster: the technology behind the "Boundless" MMO approach.
● Procedurally generated planets, revealed as players explore further and further.
● 25cm precision voxel technology to modify the environment or construct buildings/ships
● Unlimited LOD (Level of Detail) technology allows planet-sized construction to be built
● 64bit Planetary Engine: Smooth transitions from planet surfaces, through atmosphere and into space with no limits to how far the player can travel or see.
Screenshots
Downloads available from the Dual Universe website: http://www.dualthegame.com/screenshots
About Novaquark
Novaquark is a Paris-based game studio formed in 2014 by veterans from Ubisoft, Sony, Apple, Aldebaran Robotics, with a mission to renew the MMO genre through technological innovation. Dual Universe, their flagship title, fosters massively emergent gameplay in a huge continuous single-shard virtual world. The studio is currently hiring experienced and motivated candidates in various domains of expertize.
Check out the latest news
Game site: http://www.dualthegame.com
Twitter: https://twitter.com/dualuniverse
Facebook: https://www.facebook.com/dualuniverse
Devblog: https://devblog.dualthegame.com
Community: https://community.dualthegame.com
Media contact : HomeRun PR – Damien Sarrazin – Damien@homerunpr.com