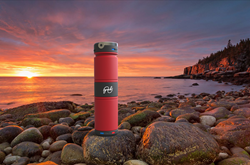 Ankita and I began our journey with Golchi a year and a half ago when we decided to revolutionize the everyday bottle and bring added convenience to people who use multiple bottles to carry their beverages every day
Chicago, Ill. (PRWEB) August 13, 2016
The Golchi bottle, which has raised more than $355,000 on Kickstarter, has become the most popular thermos campaign in the history of crowdfunding. If this was not enough, Golchi has made it to the nominations of the Chicago Innovation Awards. Established in 2002, the Chicago Innovation Awards shine a bright light on the creative spirit of Chicago by focusing attention on the most significant new products and services introduced in the region.
"Ankita and I began our journey with Golchi a year and a half ago when we decided to revolutionize the everyday bottle and bring added convenience to people who use multiple bottles to carry their beverages every day," said co-creator Harsh Garg. "Our product was an outcome of our personal experiences."
In addition to offering a solution to an unmet need in the marketplace, Golchi has also exceeded market expectations – especially when it comes to the worldwide response it has received during the couple's Kickstarter Campaign. In addition to backers in the United States, the bottle has received an uncommon amount of support from backers in other countries including the United Kingdom, Australia, Malaysia, Germany, Singapore, Thailand, Hong Kong, France, India and others.
.
"We are thankful to the Kickstarter community that has showed tremendous support to Golchi," said co-creator Ankita Garg. "We are also humbled by the extensive media coverage that Golchi has received from across the globe in the last two months. Our campaign ends in two days and we are now focused on the pre-production activities."
With the success of Golchi, and to acknowledge the support received from more than 4,700 backers on Kickstarter, the couple has decided to modify the Skyline pattern to include signature landmarks, skyscrapers or monuments each from the top 15 countries in the Golchi community.
"Now people can carry their favorite city on their favorite gear," Ankita Garg said.
The Golchi is available at special discounted prices until 5:55 p.m. (EDT) Monday, Aug. 15. on Kickstarter. The Gargs note that the campaign is in its final two days and the reduced Kickstarter prices will never be offered again.
About Golchi
Golchi LLC is a Chicago-based startup company focused on re-imagining everyday products for people with active lifestyles. 'Golchi' was created with 'GO' and 'Chill' as two core ideas and a name free from confines of any language. The company also developed a logo that has character, is compatible with 'invertible' nature of our bottle and representative of the thought put into the bottle design. The terms "go" and "ch" in the logo denote two compartments of our bottle. The two dots on the sides of the logo depict two openings on the either side of our bottle. The logo is also an ambigram, which when rotated by 180 degrees in any direction, it retains its identity. For more information, visit http://www.mygolchi.com.