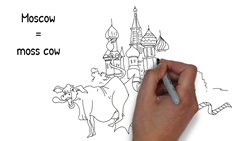 I'll hack your brain and make you memorize all the Olympic cities in 19 minutes.
(PRWEB) August 16, 2016
A new whiteboard animation video series, released by Memorize Academy, helps anyone memorize the names of all 28 Olympic host cities in less than 20 minutes. The videos were created by Kyle Buchanan, the most watched memory coach in the world, to coincide with the Olympic Games currently being hosted in Rio de Janeiro.
Memorize Academy is pioneering the use of whiteboard animation videos to teach best-practice memorization techniques to students, so they dramatically increase their ability to remember and recall information and improve exam performance.
This latest series of videos uses the Link and Story Method – a visual mnemonic technique – to link together the names of all the Olympic cities from the 1st modern Olympiad in Athens to the current Games in Rio de Janeiro. By itself, research shows this mnemonic technique leads to an improvement in recall of up to 700%, but the use of whiteboard animation video adds a further 15% in information retention.
Kyle Buchanan said: "Based on the 4+ million views of my whiteboard animation videos on YouTube, less than 1% of students know how to memorize effectively. That's an astonishing insight when recalling basic facts is such a fundamental step in the learning process."
Seemingly super human memory feats can be performed by average people using visual mnemonic techniques. The current world record for memorizing a deck of playing cards is 20.44 seconds and the most digits memorized in five minutes is 520. These accomplishments are made possible with best-practice mnemonic methods, which any school student can learn.
By leveraging the 'Competence/Confidence Loop', students are introduced to the natural power of their visual memory using easy-to-watch videos. When they experience how quickly they can memorize a long list of words or names, the boost to their self-confidence renews their motivation for study.
Choosing a topical subject like the Olympic Games is a strategic way to gain student and teacher interest, and presenting it with video is essential for the new digital generation.
The use of digital technology in education is also an important theme in the investor community, with 'edtech' being billed as the next 'fintech', resulting in vast amounts of investor dollars flowing to the education and learning technology sector.
It is early days for Memorize Academy, but the future is looking bright. After watching the new Olympic cities videos and successfully recalling all 28 names, one impressed viewer said: "I'm 16 and I have a terrible memory, as young as I am. You sir, are a miracle worker!"
Watch the entire video series at: https://www.memorize.academy/blog/how-to-memorize-the-olympic-cities
About Kyle Buchanan:
The most viewed memory coach in the world, 'The Whiteboard Animation Memory Coach' is the best-selling author of 'Memorize the Periodic Table', the creator of the #1 'How to Memorize' video on YouTube and Google, and founder of Memorize Academy. He is pioneering the use of whiteboard animation videos to teach best-practice memorization techniques to students and lifelong learners.