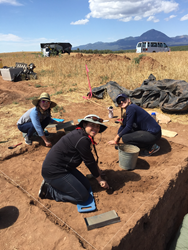 "This [new Earthwatch] project is a perfect combination, supporting environmental science and encouraging girls to pursue careers in this important area," said Amy Ruth Borun, Chair of the Borun Family Foundation.
LOS ANGELES / BOSTON (PRWEB) August 15, 2016
In July ten teenaged girls left their comfort zones in Los Angeles County to embark on a one-week archaeology-focused Earthwatch expedition in Colorado led by female scientists and storytelling experts.
For some, it was their first flight, first time seeing quite so many stars in the night sky, and first time in the stunning high desert landscape. For all, it was a unique opportunity to work alongside leading "real" scientists to dig into the past – unearthing the stories of Colorado's Pueblo and Basketmaker communities – as well as their own personal narratives.
"We've been sending students out into the fields for decades – and are always thrilled to hear how powerful the experience was for them," said Earthwatch CEO, Scott Kania. "But this pilot team focused on young women, science and storytelling really blew us away. We seemed to have hit on a kind of special sauce."
The new program, launched with seed funding from the Borun Family Foundation, aims to empower girls 15 to 18 years old to explore their passion for science while building STEM learning skills. In addition, they are mentored throughout the project by a storytelling professional to work on sharing their own personal stories – helping to build confidence, pride, and understanding.
"Our foundation looks for meaningful projects which fill gaps we see in funding of social and environmental needs," said Amy Ruth Borun, Chair of the foundation. "This project is a perfect combination, supporting environmental science and encouraging girls to pursue careers in this important area. We look forward to seeing the project grow in the future."
This year, the students traveled to the Crow Canyon Archaeological Center in Colorado where they worked with Dr. Susan Ryan and her predominantly female staff. They performed fieldwork all day and in the evenings, storyteller, author and educator Nora Dooley led them through a novel storytelling curriculum. The primary goal: to help the students find and tell their stories, and eventually hone them to powerful, three-minute narratives.
Dooley continues to mentor the girls and in the fall they will share their stories in front of families, teachers, and classmates at a special event in Los Angeles.
"Sometimes the greatest gift we can give to our students as educators and mentors is the sense of being able to accomplish anything that you set your mind to," said Ryan, whose path to becoming a scientist wasn't always linear. Ryan said working with the team reminded her of what it was like to be their age again – and that for some it can be a challenging time filled with self-doubt.
"With my time here, I've been able to learn things and I have had access to resources that I wouldn't have otherwise before," said student fellow Emily Wang. "This experience has really impacted me and helped me to feel that I can go into science."
###
Earthwatch Institute (earthwatch.org) is an international nonprofit organization that connects citizens with scientists to improve the health and sustainability of the planet. Since its founding in 1971, Earthwatch has empowered nearly 100,000 volunteers from all walks of life to join leading scientists on field research expeditions that tackle critical environmental challenges around the globe – from climate change to ocean health, human-wildlife conflict, and more. Earthwatch works with all sectors of society, from corporations to teachers, students, community leaders, zoos and aquaria, and more.