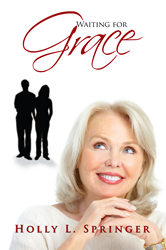 The most influential advocate for your life is yourself
PHILADELPHIA, PA (PRWEB) August 15, 2016
Continuing to live a full and happy life following a life changing brain injury.
Holly Springer is a three-time author and brain aneurysm survivor who rebuilt her life after being told it would be a tragedy. Springer continues to inspire others who have experienced brain injuries and other limitations life has thrown at them through her three memoirs.
In her new memoir, "Waiting For Grace," Holly Springer discusses her mental and physical rebuilding post brain aneurysm and how her faith changed her life into a miracle. Springer reminds readers that life may not always be easy, but hard work and strong relationships can help build a full life.
"Life is short and should not be taken for granted. The most influential advocate for your life is yourself," Springer said.
Springer guides readers through her traumatic experiences and struggles and how she found a new life of hard work and a positive attitude. Through God and strong determination, Springer found a new beginning for herself and her family.
"I feel very strongly the individual should have the ability to dictate how they want the quality of their life to be," Springer said. "Although I think I am always learning, it was not until I really had time to reflect that I began to recognize the opportunity each day provides to understand myself better."
Waiting For Grace
By Holly L. Springer
ISBN: 978-1-329-52770-6
Available in softcover
Available on Amazon, Barnes & Noble and LULU
About the author:
Author Holly L. Springer survived a brain aneurysm, and seven-week coma in 2001. Since then she has used her new journey to inspire and relate to others, while keeping her strong faith and family relationships. This is Springer's third book in a saga, all detailing what her life now consists of and how she keeps pushing on. Springer currently lives in Pennsylvania.
**FOR IMMEDIATE RELEASE**
For review copies or interview requests, contact:
Delanie Olsen
847.749.5956
dolsen(at)bohlsengroup(dot)com