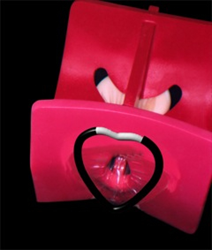 Petoskey, Michigan (PRWEB) August 25, 2016
Design firm IXu LLC announced its trademark VA® w.o.w. (worn-of-women) female condom launch is now scheduled for early 2017, starting with European distribution.
A planned 2016 launch in Europe was delayed as IXu encountered unexpected changes in manufacturing sourcing last month.
"We're sorry for the delay of the European VA launch," states IXu CEO Brian Osterberg, "It's unfortunate timing considering the uptick in STDs in many global regions, our distributors and retailers awaiting the VA condom and now the increasing Zika outbreaks."
"Putting the VA condom for women on the frontline against Zika and STDs is the most immediate concern," states Osterberg, "We believe the current studies reveal the VA w.o.w. can continue to prove itself the most user-satisfying and effective female condom."
For advancement in the U.S., IXu requests health departments and all interested parties contact their elected government officials to push for an expedited FDA approval of the VA female condom.
IXu is currently working with Indus Medicare Ltd. of Hyderabad, India for additional manufacturing capacity for the entire VA condom line to ensure reliable product availability.
The re-scheduled VA condom line launch includes the highly anticipated patented VA tech models that combine various VA condom models with miniaturized stimulators (e.g. sex toys), shown to be extremely effective for sexual satisfaction in User Surveys.
There was an unprecedented response to the "100% 'O' Press Release" made by IXu last year highlighting the outstanding test results with the combination female condom and sex toy.
A public health example of early VA w.o.w. Condom Feminine success was the distribution by the Ministry of Health of Portugal. The Ministry purchased the VA for social distribution at all its national clinics, where successful response prompted the Ministry to continue the consumer-trial for an additional year. This success led IXu to ramp up manufacturing capacity to allow for full European, and eventually, global distribution.
Pre-orders for 2017 by social organizations and distributors can be made by contacting IXu at: info(at)ixullc.com
IXu believes it to be the only company undertaking global introduction of a complete women's condom line - - standard models to wearable-tech models - - all based on the original 2009 VA w.o.w. design consisting of a latex pouch, sponge and soft poly outer V-frame that rests snugly against the female body.
See a VA w.o.w. instructional video here.
IXu is also the design firm of the world #1-rated inSpiral male condom, being released later this year from Indus Medicare and EU distributor MIS Healthcare. IXu's patent portfolio also includes several successfully proven Design Patents for male condoms, such as the banana-shaped condom which provides friction ridges when worn by the male.
IXu LLC is a U.S. based design firm with 25 years experience in condom design. Customers of IXu condoms include Walgreens, Boots, Walmart, CVS, Adam&Eve, national Health Ministries, DKT International, etc.