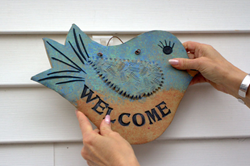 This product allows people to decorate their home without marking it up, or marring it in the process.
Grand Rapids, MI (PRWEB) August 15, 2016
The VZ Hang Vinyl Siding Hook, an innovative product from Larco Products which makes decorating the exterior of the home simple, easy, and affordable, is now promoting a new product line on Kickstarter in the hopes of bringing their project to life.
After listening to the feedback of customers, Larco Products realized there were new opportunities for growth with a unique line of products that could help customers better decorate their homes. There were two main problems that customers were having. The first issue was hanging decorations and lights near finish trim - the trim around windows and near the roofline. The second problem was hanging decorations that require a tab design rather than a lip design, for example, house number signs and heavier placards.
To solve these problems VZ Hang has introduced two new hook designs; the Keyhole Hook and the Finish Trim Hook each which aim to tackle both of those problems with an innovative design and intuitive ease of use.
"This product allows people to decorate their home without marking it up, or marring it in the process," says Connie Larson, President, "Our clips offer a seamless look that keeps vinyl siding in great shape. Our motto is 'No holes. No tools. No damage.' and we take that very seriously."
Compared to other products on the market that are just plain clunky, VZ Hang is a sleek and light design that gets the job done. The product is made from quality plastic, with UV protection. It can handle the elements, hang up to 5 lbs. safely, and what really sets it apart is the low-profile design meaning the focus is on the decoration, not the obtrusive hook.
Available on Kickstarter, these handy clips start at $5 for a set of 4 VZ Hang Placard Hooks, or $5 for a set of 2 VZ hang Keychain Clips.
"We really listen to our customers. Over the past several years, we've had multiple requests for additional design options for our clips. Customers are looking to hang items that require key holes, or the ability to fit into finish trim. We've heard those voices, and we see this Kickstarter as a means to get our tooling done, and get those products to market in a timely manner," adds Larson.
VZ Hang Hook is currently live and available to support on Kickstarter: http://kck.st/2aNsyqp
About Larco Products, LLC
Big ideas. Simple solutions. That's what we're all about. Larco Products LLC creates and develops innovative solutions to life's household challenges. Our products bring you trusted, quality goods which make your life easier.
For more information on Larco Products please visit http://www.vzhangit.com/
###