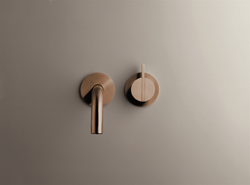 COCOON has the pleasure of working with Studio Piet Boon, one of the most renowned Dutch design studios.
New York, New York (PRWEB) September 13, 2016
COCOON, an interior design and architecture company, has recently announced the launch of its new line of stainless steel bathroom taps and showers designed by the renowned Dutch designer, Piet Boon. Considered timeless pieces of craftsmanship and art, the taps in COCOON's new collection have a distinctive shape and come in three different matte finishings: Brushed Stainless Steel, Raw Copper and Gunmetal Black. Unlike regular colored taps that have a coating on a brass base, COCOON taps consist of a highly durable 100% stainless steel base. Raw Copper and Gunmetal Black taps in the latest COCOON collection have a super strong PVD coating on a stainless steel base, enabling them to last a lifetime and adding a characteristic depth to the exclusive surface finishing.
"COCOON has the pleasure of working with Studio Piet Boon, one of the most renowned Dutch design studios," states a representative from COCOON. "Piet Boon is responsible for the new COCOON taps, showers, basins, and bathroom furniture collection. The taps breathe sophistication and simplicity due to their state-of-the-art technology which allows them to operate the single lever mixers over two axes."
Marriott Hotel Features COCOON
COCOON's collection of taps designed by Piet Boon have been installed in the pilot rooms of the grand 5-star Marriott Hotel in Amsterdam as part of a huge renovation planned to celebrate the hotel's 40-year anniversary. Inspired by the Wabi-Sabi credo, the new collection of COCOON taps is designed to add a sophisticated edge to the client's bathroom, thanks to the taps' chic matte finish.
COCOON taps are made from eco-friendly materials that will not harm the planet during their manufacture, use and disposal. The taps have water-saving aerators that maintain a steady flow of water that is perfect for use but without leading to wastage and overuse.
About The Company
COCOON is an interior design and architecture studio that has a passion for craftsmanship and timeless design. Using natural materials that beautify with age, COCOON designs products that make people happy, bring them comfort and allow them to embrace their personal identity. COCOON taps and showers are produced in Italy near the idyllic Lago Maggiore combining cutting edge techniques with artisanal craftsmanship. The company consists of diverse and multidisciplinary teams of architects, designers, product engineers, project managers, sales representatives, exclusive showroom partners, photographers, and the after-sales service team.
COCOON is currently introducing its first luxury projects in the USA. With the aim to keep them ultra-exclusive, the products will only be available directly at COCOON's Project Division and will be featured in just a handful of the most renowned architect firms and agents in New York, California and Canada later this year.
For more information on COCOON, log on to http://www.bycocoon.com or call on +31(0)208932364 or +31(0)629322251. The company can be reached on Facebook or Pinterest.