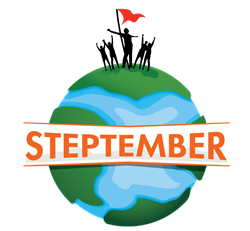 Washington, D.C. (PRWEB) August 17, 2016
CORRECTION: The original August 10, 2016, release did not contain United Cerebral Palsy (UCP) interim CEO Rick Forkosh's complete remarks regarding the STEPtember challenge, an international campaign which encourages people around the world to exercise the equivalent of 10,000 steps a day in order to improve the lives of people living with cerebral palsy and other disabilities. STEPtember runs from September 1-28, 2016. Forkosh's remarks are as follows:
"Cerebral palsy, a condition not a disease, is the most common physical disability in childhood and can cause multiple concerns for these children. People with disabilities - children and adults - have the same desires, hopes and dreams as the rest of us. The money and awareness raised by STEPtember helps to enable our organization to provide valuable services and resources to these families to enhance the care of their loved one."
Forkosh continued, "Because of the level of support individuals with disabilities often need, some families experience severe financial hardship. STEPtember enables UCP to assist these families and directly benefits those with cerebral palsy and other disabilities."
He concluded, "With the help of everyone who participates this STEPtember, we can create a movement that inspires and transforms lives."
This year, 34 UCP affiliates, along with local and national organizations and businesses, have committed to leading the STEPtember challenge in their community. The funds raised locally will remain with the local organization and provide equipment, therapy and support for people living with disabilities.
Those who wish to participate are encouraged to form a team of up to four and register online at STEPtember.us. Participants use a convenient online tracker to record their daily steps and the step equivalent for 70 activities along with their collected donation information. Each participant is asked to raise $100 or more.
About United Cerebral Palsy
Founded in 1949, United Cerebral Palsy educates, advocates and provides support services to ensure Life Without Limits for people with Cerebral Palsy or other disabilities. UCP's mission is to advance the independence, productivity and full citizenship of people living with a spectrum of disabilities. To learn more about United Cerebral Palsy, visit ucp.org and engage with the organization on Facebook, Twitter and YouTube.