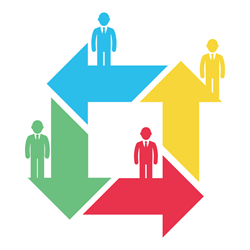 Lake Lure, NC (PRWEB) August 15, 2016
In a move that makes it easy for clients and HBDI® practitioners to embed Whole Brain® Thinking concepts into an organization's culture and practices, Herrmann International is introducing Whole Brain® Content Libraries, collections of digital assets—including models, "walkarounds," facilitation guides, worksheets and other reading material—organized around specific topics. Content within these libraries can be used as building blocks for developing new or customizing existing talent, learning and development, strategy or cultural initiatives so that clients can extend the value of their investment in Whole Brain® Thinking and broaden its business and cultural impact.
"Today's organizations see strategic value in being able to turn Whole Brain® Thinking into daily business practice," says Dominic Coletto, Executive Vice President of Sales, Herrmann International. "These libraries will make it easier than ever for clients and practitioners to access and embed our intellectual property into their own work so they can have a consistent, research-backed and business-focused framework that extends across the organization."
Within each content library, clients will find a variety of Whole Brain® tools and assets they can use to either develop new programs or incorporate into their existing programs and initiatives to ensure Whole Brain® Thinking principles are consistently communicated, reinforced and applied to deliver the maximum impact and benefit. These self-service libraries also include guidance on the purpose and "how to" of each model, walkaround and activity, and give practitioners flexible tools for applying best practices based on Herrmann International's 35 years of research on thinking, learning and the brain in business.
"Whole Brain® Thinking concepts are applicable across a wide range of business and organizational issues, and there are many experts in those specific specialties and niches," says Betsy Summers, Herrmann International's Director of Marketing and Product Management. "Since we're experts in transformative thinking, in essence, these libraries allow clients to tap into our expertise to support theirs."
In all, 18 Whole Brain® Content Libraries are planned for the initial launch, with libraries addressing change management, coaching, communication, and teams & collaboration topics among the first to be released. Additional libraries will cover a variety of key business and learning topics through the lens of Whole Brain® Thinking, including: company culture & engagement, creativity, decision making, HR & OD, innovation, leadership, learning design, management, mentoring, problem solving, project management, sales & service, strategy & strategic thinking, and customers.
"As a learning and development professional, HBDI® practitioner and former Herrmann International customer myself, I am thrilled that we have this new capability. It's such a smart way to give clients access to 30+ years of IP and research that they can quickly download, use and benefit from," says Anne Griswold, Whole Brain® Thinking Catalyst.
For more information on licensing options and access to the Whole Brain® Content Libraries, visit http://www.herrmannsolutions.com/whole-brain-content-libraries/.
About Herrmann International
For more than three decades, Herrmann International has been at the forefront of the most progressive research exploring the connection between thinking preferences and business results. With its pioneering Whole Brain® Thinking approach, the company has turned this knowledge into practical, easy-to-apply training programs, tools and methods that help clients leverage their diversity of thought to achieve exponentially higher results. More than 70% of the Fortune 500, including 9 out of 10 of the Fortune 100, rely on Herrmann International's thinking style assessments and learning methods to help them build their competitive advantage. More information: http://www.herrmannsolutions.com.