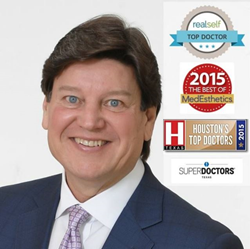 Houston, TX (PRWEB) August 15, 2016
Paul Vitenas, M.D., F.A.C.S, is excited to reveal that his office, Vitenas Cosmetic Surgery, has been given the prestigious title of 'Top 250' level member with Allergan Partner Privileges. This elite distinction shows a deep commitment to excellence and patient care. Only the top rated providers in the field of aesthetic care are ranked by Allergan.
The maker of today's top cosmetic products, Allergan annually recognizes the country's most skilled and prolific physicians to honor their contributions to aesthetic medicine. As a multi-specialty health care company, Allergan caters to the ever-changing cosmetic needs of patients worldwide, making products that range from wrinkle-erasing injectibles to natural-looking breast implants. The physicians designated in the 'Top 250' are known as industry leaders with Allergan's full portfolio aesthetic products, including Natrelle Breast Implants, Botox Cosmetic, Juvederm injectable gels, Latisse, and Skin Medica skin care.
Earning a place among Allergan's 2016's 'Top 250' practices, Vitenas Cosmetic Surgery stands out as the ideal location for both surgical and noninvasive procedures. The facility, located on Richmond Avenue in the heart of Houston, received the 2015 AIA/AAH Healthcare Design Award by the American Institute of Architects and the Academy of Architecture for Health. The 19,0000 square foot building houses Dr. Vitenas' Mirror Mirror Beauty Boutique on the ground level, dedicated to nonsurgical treatments and injectibles. The top two floors are designed to accommodate Dr. Vitenas' luxurious, cutting-edge treatment rooms and the Houston Surgery Center, his private surgical suites, fully accredited by the American Association for Accreditation of Ambulatory Surgery (AAAAS).
It is Dr. Vitenas' continued goal to bring out each patient's most beautiful features, with safe and natural-looking results, that has propelled Vitenas Cosmetic Surgery's popularity. Dr. Vitenas shares his sentiment, "No matter how large or small the change, we at Vitenas Cosmetic Surgery are committed to providing the superior care (our patients) desire and deserve."
Dr. Vitenas founded Vitenas Cosmetic Surgery in 1990. An alumnus of the prestigious Tulane Medical School in New Orleans, Dr. Vitenas completed his Orthognathic Surgery Fellowship at the Louisiana State Medical Center, and his Craniofacial and Cosmetic Surgery Fellowship at the Hospital Necker and Clinic Belvedere in Paris, France. Today, Dr. Vitenas' extensive experience and dedication to safe, personalized patient care make his office the preeminent plastic surgery destination in Texas. Dr. Vitenas routinely speaks at meetings and conferences across the U.S. and internationally. An avid writer, he has been featured in a variety of scientific journals, as well as Allure, Glamour, and Self Magazine.
For additional information on Dr. Paul Vitenas, contact Vitenas Cosmetic Surgery at 281.484.0088. Consultations with Dr. Vitenas are complimentary. To learn more about the 'Top 250' level membership with Allergan Partner Privileges, or find data on their family of products, like Botox Cosmetic and Juvederm, go to http://www.allergan.com/home.