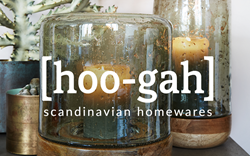 For us these objects are more than just 'stuff', they are the little things that make the difference between a house and a home.
United Kingdom (PRWEB UK) 17 August 2016
Website: https://www.hoo-gah.co.uk
For some time now [hoo-gah] has been scouring Northern Europe in search of the best examples of Scandinavian homeware design. Within Scandinavian design there are many wonderfully iconic styles, but this company gets particularly excited about the understated, timeless objects, which celebrate material and form. When introduced to a room these objects help create an atmosphere of heartwarming comfort and cosiness; a sensation that is so important to everyday life in Denmark that they've given it it's own word - hygge, pronounced [hoo‑gah]*.
Now [hoo-gah] is sharing this beautiful collection of homewares including throws & quilts, cushions, and candle lights, and to help customers find their perfect match they are offering 10% off their first order. Visit the [hoo-gah] website to see what's on offer and make the most of their new promotion.
*So... what's a [hoo‑gah] anyway? Click here to find out more behind the name.