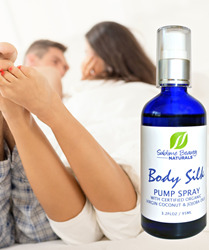 The company motto of Sublime Naturals is: make healthy choices, love your body, respect nature. These products support that motto.
St. Petersburg, FL (PRWEB) August 16, 2016
Discover two organic products from Sublime Naturals which will be featured on Amazon Lightening Deals this week.
The Body Silk with pump spray will be featured on Tuesday August 16th from 4:50 pm to 8:50 pm EST (1:50 to 5:50 Pacific).
It features a pump spray bottle with virgin coconut oil, grape seed oil, sunflower oil, certified organic jojoba oil, meadowfoam, and rosemary essential oil for the softest, most glowing skin.
The 8 ounce USDA Certified Organic Sesame Oil will be featured on Wednesday August 17th starting at 10:40 pm EST ( 7:40 Pacific).
Sublime Naturals promotes the healthy ayurvedic practice of Oil Pulling and has a site devoted to the information. The company offers a 16 ounce bottle of sesame and the newer 8 ounce bottle, which is featured Wednesday. The oil is "food grade" and is also a good carrier oil for essential oils as well as for skin care.
All Sublime Naturals products are available on the Sublime Naturals store, and many are also found on Amazon. The company focuses on organic products and essential oils, including a One-a-Month Essential Oil Club.
ABOUT: Kathy Heshelow is the founder of Sublime Naturals, Sublime Beauty, ZEN BOX (a subscription box of essential oils) and the One-a-Month Essential Oil Club. She is also author of the new book, "Essential Oils Have Super Powers."