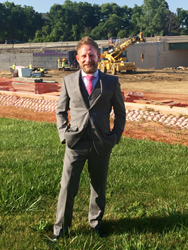 Jefferson Valley, New York (PRWEB) August 23, 2016
The Blue Book Building and Construction Network®, the largest commercial construction industry network, is proud to announce a new promotion: Mark Arnold has been named National Accounts Manager.
Mark has worked for The Blue Book Network® for nearly ten years. His most recent title was Private Project Consultant, where he was actively involved in the launch of The Architect Keystone Alliance (AKA). Mark has spent the past decade dedicated to helping subcontractors, suppliers, general contractors, building product manufacturers, and architects build their businesses and develop quality relationships with the commercial construction industry.
Starting as an Account Manager in 2008, Mark quickly built a network of active buyers and sellers in the Greater Cleveland area, leading to a President's Club Award in 2010 and a promotion to Southern Ohio Area General Manager. From 2011 to 2014, Mark and his team managed hundreds of relationships between suppliers, manufacturers and contractors. When the Project Communication Team was launched in 2015, Mark became the Private Project Consultant for Ohio, where he conducted over sixty Lunch & Learn events to introduce the architectural community to the AKA.
"Mark's expertise working with the active players from design to post construction lends itself perfectly to his newest position as National Accounts Manager. He's developed countless relationships with industry professionals from subcontractors to architectural firms to manufacturers," says Rich Johnson, President of The Blue Book Building and Construction Network®. "We have every confidence that Mark's determination to drive our initiatives forward will facilitate the development of relationships in major construction markets throughout the U.S."
Mark's newest project will be helping national players in the commercial construction industry develop and nurture the types of relationships seen at the local level in The Who's Who in Building & Construction. The Who's Who magazine and buyers' guide brings the latest information and industry players to local decision-makers. His experience working with all construction phases, from design to post-construction, makes Mark particularly well-suited to helping national companies discover the benefits of exposure to local markets.
For further information about building local and national reputations in The Who's Who in Building & Construction, please visit: http://www.buildnationalsuccess.com or call (855)346-6075.
About The Blue Book Building & Construction Network®:
The Blue Book Network®, an Employee-Owned enterprise, is the largest and most active construction network in the United States. For over one hundred years, the commercial construction industry has turned to The Blue Book Network® for accurate, complete and up-to-date information on the people and products required for their projects. The company maintains a nationwide industry search engine at http://www.thebluebook.com powered by BlueSearch technology. In addition, The Blue Book Network® provides a complete suite of Internet-based information, workflow and marketing resources for all segments of the building and construction industry.