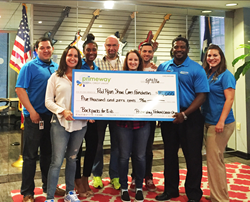 Houston, TX (PRWEB) August 16, 2016
On Wednesday, Aug. 3, PrimeWay Federal Credit Union donated $5,000 to "Back 2 School," a program co-sponsored by "The Rod Ryan Show" of KTBZ-FM 94.5 The Buzz and the Houston Children's Charity, for the third year in a row.
During an on-air promotion that ran in the early morning hours of Aug. 3 on "The Rod Ryan Show," PrimeWay pledged $5 for every Twitter "Follower" it received, with an end goal of $5,000. The initiative was so successful that the credit union's Twitter handle became a Twitter trend in Houston, Texas.
The Houston Children's Charity "Back 2 School" program buys backpacks and school supplies for local school-aged children in need. The annual program has helped more than 19,000 children.
"Being able to help provide the tools for children in our community to learn and get a solid education made us so happy," said Michael Green, marketing manager at PrimeWay. "It was uplifting to see so many people in our community so passionate and supportive of such a worthy cause. It was great just being able to have fun while doing something positive to support the youth in our community; it was just an added bonus that we were also able to make just as many new friends online as we did last year!"
PrimeWay's Twitter community substantially increased as a result of this promotion, allowing the credit union to continue to actively support meaningful causes and creatively give back to their community as much as possible. The credit union plans on executing more community initiatives throughout the year.
For comments or quotes, please contact Paige Harris, PR specialist, at 713-799-6365 or pharris(at)primewayfcu(dot)com.
About the company:
Since 1937, PrimeWay has been serving the greater Houston area, including Harris, Fort Bend and Washington counties. With a value statement representing compassion, accountability, real value, integrity, new ideas and guidance, PrimeWay leads the way in member service and putting families first. They take a vested interest in each of their members and employees, making PrimeWay truly a place where people love to work and love to do business.