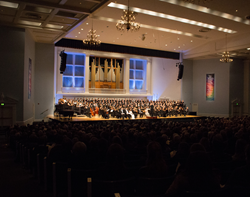 This season, five acts will perform at the college's Edman chapel, a welcoming venue close to home that allows guests to experience warm hospitality with great music at a great value.
Wheaton, IL (PRWEB) August 16, 2016
Tickets now are on sale for individual performances from the Wheaton College Artist Series, which kicks off in September.
The Artist Series dates back to 1950 and has brought countless international, national and regional entertainers to DuPage County. This season, five acts will perform at the college's Edman chapel, a welcoming venue close to home that allows guests to experience warm hospitality with great music at a great value. All concerts are open to the public and begin at 7:30 p.m. with short talks and presentations by the artists at 6:30 p.m.
General admission seating is $45. Seniors receive a $5 discount and student tickets are just $10. Discounted tickets also are available for groups of 20 or more. Season subscriptions that include tickets to all five events are on sale, too. Subscribers receive savings of more than 20 percent compared to individual ticket prices along with a Dining & Discount card with special offers for local restaurants and retailers, including many favorites in downtown Wheaton.
The season kicks off on September 30 with The 5 Browns, a quintet of piano playing siblings who all attended New York's Juilliard School. They enjoyed their first wave of critical attention in 2002 when People magazine dubbed them the "Fab Five." Since then, they have been featured on Oprah and 60 Minutes, as well. The quintet has released three CDs that each went to #1 on Billboard Magazine's Classical Album Chart. The New York Post proclaimed: "One family, five pianos, and 50 fingers add up to the biggest classical music sensation in years." The 5 Browns have performed in numerous venues including the Grand National Theater in China, Suntory Hall in Japan, Carnegie Hall in New York City, and Symphony Center in Chicago.
On November 5, the Eroica Trio will bring its electrifying music to the Wheaton College Artist Series. The first all-female chamber ensemble to reach the top echelon in the field, the group provides flawless technical virtuosity on piano, cello and violin. The Trio won the prestigious Naumburg Award and has toured the United States, Europe, Middle East, South America, and Asia. The Eroica Trio has also released eight recordings for Angel/EMI Classics Records, garnering them multiple Grammy nominations. The Eroica Trio has been featured in countless magazines and appeared on The View, CNN's Showbiz Today, the CBS Morning Show, A&E's Breakfast With The Arts, and more.
The Hubbard Street 2 Dance Company and Camerata Chicago orchestra will ring in the new year on January 27, 2017 at the Edman Chapel stage. This special collaboration features performances of Mozart's Symphony No. 25 in G Minor and Anna Clyne's Within Her Arms. Hubbard Street Dance Chicago is among the most original forces in contemporary dance. As the second company, Hubbard Street 2 cultivates young artists, preparing them for careers in contemporary dance through a dynamic environment that fosters artistic growth. Founded in 2003 and considered one of the finest chamber orchestras, Camerata Chicago has performed in venues throughout Chicagoland as well as Europe. The orchestra appears frequently on WFMT radio and has released several critically acclaimed recordings.
On February 24, the program features music by J.S. Bach and James McMillan. Alumnus John Nelson, a Grammy Award-winning conductor and frequent Artist Series performer renowned for his interpretations of large Romantic works, opera performances, and vibrant and stylish performances of Baroque music, will conduct "Songs of Praise: Masterworks by Bach and Mendelssohn." Maestro Nelson will be accompanied by internationally acclaimed soloists along with the chorus and orchestra from the Wheaton College Conservatory of Music.
The Artist Series concludes April 1 with Axiom Brass. Internationally recognized for their groundbreaking programming, the quintet performs jazz and Latin music, string quartet transcriptions and original compositions for brass. Praised for their high level of musicality and technical ability and clean, clear and precise sound, Axiom Brass is the only brass quintet in 27 years to win the prestigious Chamber Music Yellow Springs Competition and the only American ensemble to win the Preis der Europa-Stadt Passau in Germany.
As a bonus, a tap dance performance by Andrew Nemr will be held on September 10, 2016. Mentored by renowned tap dancer Gregory Hines, Andrew Nemr has garnered a reputation for impeccable musicianship and sensitivity. An experienced soloist, Andrew has performed in national and international venues from New York to London. He also was featured on Harry Connick Jr.'s "Only You" tour. His choreography and solo work have been described as "deeply touching" by the Daily Gazette and as a "welcome return to the elegance of simplicity—and the tap dancer as maker of aural magic" by exploredance.com. This free event has limited general admission seating.
Tickets for each performance are available prior to the show. The Wheaton College Ticket Office is located on the first floor of the Student Services Building, next to the Wheaton College Bookstore, at 418 N. Chase Street. Ticket Office hours are 8:30 a.m. to 4:30 p.m. Monday through Friday. The Edman Chapel Box Office opens at 6:15 p.m. on concert nights.
Edman Chapel is located at 401 E. Franklin Street (corner of Washington and Franklin) in Wheaton. Free parking is available in the lot on the north side of the auditorium. Additional parking and free shuttles are available at the Billy Graham Center.
To reserve a seat for any Artist Series performance, visit http://www.Wheaton.edu/artist-series or call (630) 752-5010.